Silver Finish Quick Release Coupler with Vents
Silver Finish Quick Release Coupler with Vents - Connected
Silver Finish Quick Release Coupler with Vents - Disconnected
Availability: LEAD TIME - Allow 1 to 3 Business Days for Fabrication
Questions? Call 832-596-9003 or Click Here for How to Buy
Description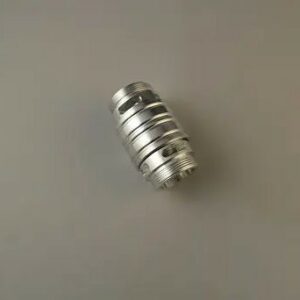 There is no other coupler like this on the market. It revolutionizes the way that you can use your combat ready double sided lightsabers. It creates an entirely new experience and entirely new ways to use your lightsabers.
This is our silver finish quick release coupler. It has a 2.0″ unthreaded length. This coupler can be quickly disconnected to turn your double bladed lightsaber into two separate lightsabers and quickly connected to turn your two lightsabers into a double bladed lightsabers. This can all be done on the fly without any screwing or unscrewing.
And it can be adjusted in order to create the perfect switch and covertec alignment when using the coupler to combine two lightsabers. This can be done without a wrench and without disconnecting the lightsabers.
This coupler is compatible with any Ultrasaber with sound including every lightsaber listed with an MHS pommel here: http://www.saberforum.com/index.php?topic=1186.0