The Cyber Monday Holiday Raffle!
Buckle Up.  We're not done yet.
We're ringing in Cyber Monday by giving away DOZENS of free, feature-loaded, custom lightsabers. With a BIG discount.

The Ultrasabers Cyber Monday Raffle stars right now!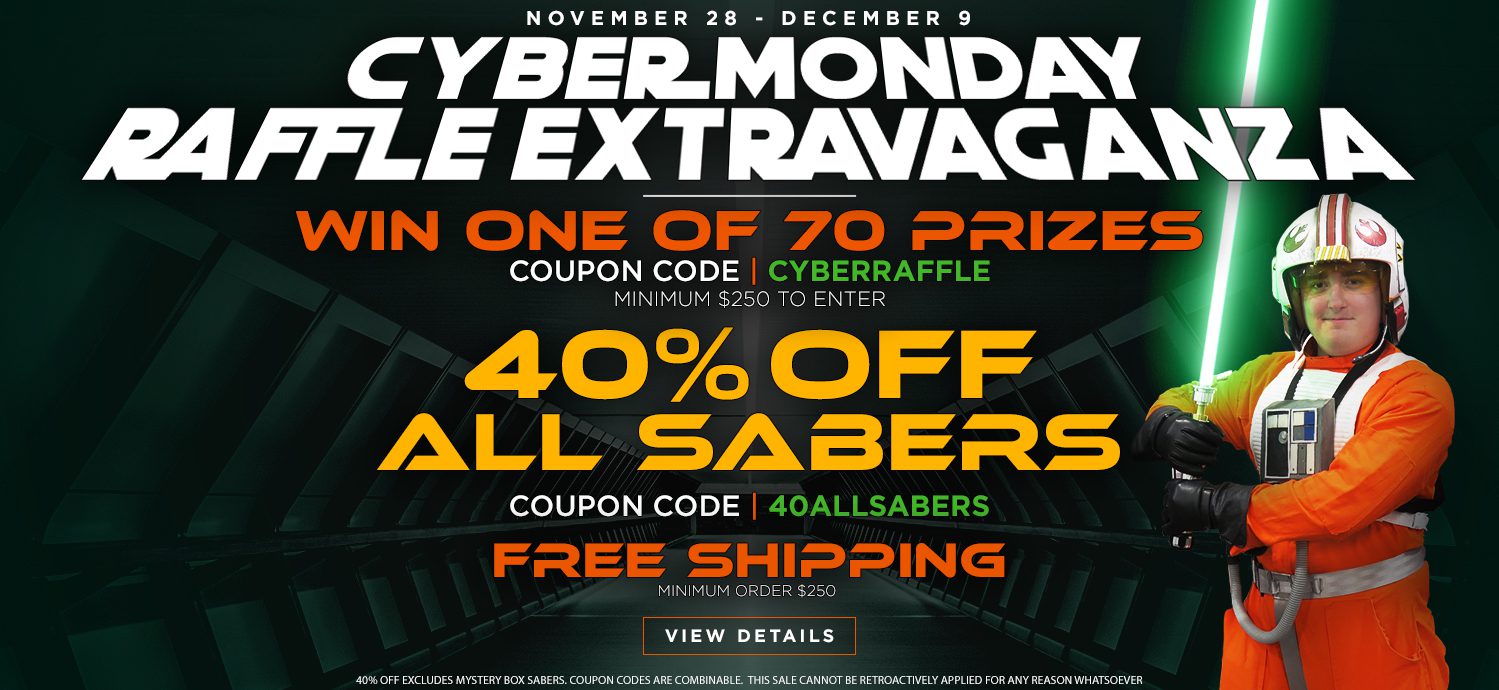 Guys and gals, we're taking a massive
40% OFF across the arsenal
, and pairing it up with one of our world famous Raffles!  This time around we're
giving away SEVENTY feature loaded custom lightsabers
(Yes you read that right- 70 sabers!!!), and to make entry even easier, you can
save 40% on any hilt
across the entire arsenal,
AND
get
free shipping on any order over $250
! Grab those coupon codes below and make sure you enter them at checkout!
Oh, and it gets better- This event
only
lasts for
11 days
, so
your odds of winning have never been higher
! In addition to this being the last raffle of 2022, this is also the SHORTEST, and you know we're not backing down on those prizes… Ready?
THOSE COUPON CODES
40% off All Lightsabers – Enter the coupon code 40ALLSABERS. Excludes Mystery Boxes
Cyber Monday Raffle Entry on orders $250 or more. Enter coupon code: CYBERRAFFLE at checkout. Details below!
Free Shipping – All orders over $250
– All coupon codes are combinable –
RAFFLE ENTRY
To enter this raffle you simply need to

make a purchase of $250 or more between November 28th, 2022 and December 9th, 2022

.
When you make the purchase you must enter the coupon code "CYBERRAFFLE" at checkout, and this will serve as your raffle ticket. Please do not forget to enter this coupon code!
40% discount may be applied by anyone, however raffle entry is exclusively for Saberforum members ONLY. Please put your saberforum.com forum name in the comments field of your order. This is mandatory for raffle consideration. Not a member? Register on SaberForum.com right here.
That's it. You are in and eligible to win one of the 70 prizes! Yes- seriously, we're giving away

70 free sabers

in our

shortest raffle yet

!  Only one Raffle ticket per order. No limit on the number of tickets per customer.
RAFFLE PRIZES
Diamond Prize [ONE winner]: Any single Ultrasaber of YOUR CHOICE with Obsidian Sound equipped with the Diamond Controller
Emerald Prize [TWO winners]: Any single Ultrasaber of YOUR CHOICE with Obsidian Sound equipped with 4-Channel Emerald Driver
Grand Prize [TWO winners]: Any single single color Ultrasaber of YOUR CHOICE with Obsidian Sound & Flash on Clash
First Prize [ten winners]: Random Hilt with Obsidian Sound & 2-channel Emerald Driver
Second Prize [ten winners]: Random Hilt with Random features with Obsidian Sound
Third Prize [twenty winners]: Random Hilt with Li-Ion setup
Fourth Prize [twenty five winners]: Random Grab Bag Saber
The Cyber Monday Raffle Extravaganza begins NOW and ends December 9th, 2022. Winners will be announced on
www.SaberForum.com
on December 10th, and also via email.
There are PLENTY of past raffle winner threads on Saberforum.com- just read through those or ask around and I'm sure the winners of any of our previous raffles can attest to the awesomeness of getting your name pulled and getting that free saber in the mail!
Let's go!
This sale cannot be retroactively applied for any reason whatsoever.
PLEASE DO NOT FORGET TO ADD YOUR COUPON CODES AT CHECKOUT!
**Free Shipping available to orders within the contiguous United States only**