High-Quality Lightsabers Fit for Jedi Masters and Sith Lords Alike
When searching for a lightsaber replica, you have many choices in front of you. You can opt for a simple plastic toy lightsaber for sale at a big-box retailer or you can buy a high-quality lightsaber made with durable components and is suitable for dueling — one that would make even the stoic Mace Windu smile. When only the most high-quality lightsabers will do, UltraSabers has exactly what you're looking for. So if you're a master Jedi or simply a young padawan who seeks high-quality custom lightsabers, check out what we have to offer and experience the UltraSabers advantage.
Build Your Own Lightsaber?
I see you have constructed a new lightsaber. Your skills are complete. Indeed you are powerful as the Emperor has foreseen.
– Darth Vader
Crafting one's own lightsaber is a rite of passage for master Force users. You can share the same experience that Luke Skywalker, Rey and other Jedi had when you build your own lightsaber. UltraSabers offers a bevy of options from which to choose to construct high-quality custom lightsabers. The combination of components allows you to craft the best quality lightsaber replica that fits your style and personality. Options include:
Hilt style
Pommel
Blade color
Blade length
Blade strength
Sound effects
And more…
High-Quality Lightsabers for Any Use
Star Wars fans gravitate towards customizable high-quality lightsabers for reasons as varied as the multitude of designs available. Some just love to have a move-quality lightsaber to display, while others actually wield their sabers for dueling. The most durable lightsabers are combat-ready weapons used in dueling competitions and exhibitions. Other fans want only the most realistic high-quality lightsabers for cosplay or LARPing events. The one constant is that everyone wants a durable lightsaber that looks and feels exactly like the real thing.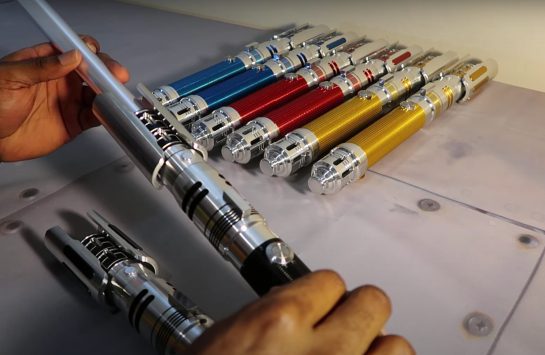 Choose UltraSabers as Your Lightsaber Replica Source
Quite simply, when it comes to high-quality lightsabers, we have the best selection. Whether you want to choose the components for your custom lightsaber or opt for one of our ready-made designs, UltraSabers is the place to shop. For the ultimate in design and function, don't miss our Limitless Sabers. Both the Emerald and Diamond Premium Sabers represent the best in quality lightsaber construction and style.
Shop High-Quality Lightsabers at UltraSabers Today
The Force is strong with UltraSabers. Build your own lightsaber the way you want it to look, feel and sound. Regardless of whether you're looking for a fantastic movie-quality lightsaber to display for all to see or wish to wield a durable and elegant weapon in tournaments, UltraSabers is the place to find the best lightsabers on the market.