Premium Lightsabers That Are Worth Your Credits
There's something eternally alluring about the lightsaber, the weapon of Jedi Knights and Sith Lords. You'll never forget the first time you saw the glow of the kyber crystal, and for many fans, recapturing that feeling is crucial. If you love Star Wars, premium lightsabers can help transport you back with lightspeed quickness. Finding the cheapest lightsaber on the market isn't always the best choice — when you need authenticity, craftsmanship and quality, only premium lightsabers will do. And, we'll bet you our sabacc pot that UltraSabers has the best custom lightsabers around.
Maybe you've been dreaming of building your own lightsaber since you saw Darth Vader and Obi-Wan Kenobi clash. Perhaps the persistence and individuality of Ahsoka Tano have inspired you. Were you awestruck at the sight of the Kylo Ren lightsaber and emboldened by his redemption as Ben Solo? Or, maybe you've been playing Star Wars Jedi: Fallen Order and want to go on a mission as epic as that of Cal Kestis or Cere Junda. Your reason for wanting a more realistic lightsaber doesn't matter — but the quality does. Whether it's simply a collector piece to place on your mantel or a stunt saber you can actually duel with, it's worth shopping for the best premium lightsabers to get you in touch with the Force.

What Makes the Best Lightsaber "Premium"?
A premium lightsaber is not like the original inflatable lightsaber toy that came out in 1978. Even today's toys found at big box stores only have basic sound effects and cheap plastic, and the higher quality mass-produced options like Force FX sabers can only do so much. Modern premium lightsabers are customizable and "premium" in every sense of the word. These are durable lightsabers constructed with the highest quality materials, like aircraft aluminum hilts and polycarbonate blades. They feature premium sound with authentic effects and often have changeable soundfonts. Plus, with a high-quality lightsaber, RGB lighting can give you the perfect color to represent your favorite character — or your personal Force alignment.
Why Should You Seek Out Premium Lightsabers?
When you browse premium lightsabers, you're likely to find one you're drawn to, whether it's pre-constructed or completely custom. Star Wars authenticity will ooze out of every component of the best lightsaber, though it can also be utterly unique. That's part of the fun of a custom premium saber — it feels both utterly you and like it was plucked right from the Star Wars universe. You can go for screen accuracy, total uniqueness or something perfectly in-between. Premium options even include a wider array of lightsaber colors to choose from. Your destiny is yours for the taking.
What Can You Do with a Premium Lightsaber?
The opportunities are nearly as infinite as the stars that litter our galaxy. However, in broad terms, most budding Jedi and Sith decide to use their premium lightsabers in one of two ways:
Dueling – Since premium lightsabers are battle-ready, they can be used for casual and competitive duels, letting you develop your own lightsaber fighting style with which to best your opponents.
Display – While the best custom lightsabers can be used for combat, they're equally fantastic when displayed as part of your collection at home — tons of fans make it their goal to have a full spectrum of lightsaber colors across their walls.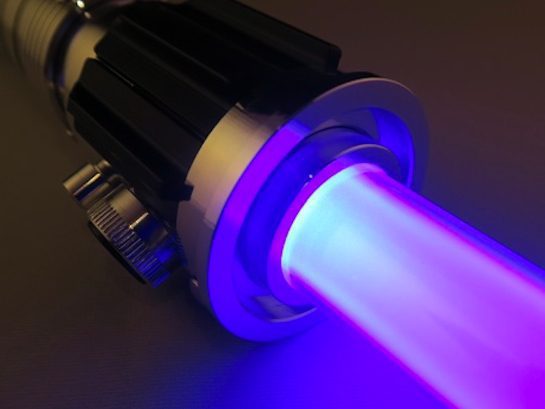 Why Should You Buy from UltraSabers?
Here at UltraSabers, we're proud of the sabers we craft. From our cheapest lightsaber options to our most expensive, everything we have is premium. For instance, the Obsidian Lite soundboards we offer might not have all the features of the V3 or V4, but they're still miles ahead of the basic sound you get from toy lightsabers, offering a fully authentic experience with clashes, wooshes and all the power sounds you know and love. Our Emerald Premium Lightsabers have some of the best LED drivers on the market, allowing you to mix and match colors and get incredible Flash on Clash effects. No matter where the Force leads you, you won't be disappointed.
Get Premium Lightsabers Now at UltraSabers
You're sure to find an incredible premium lightsaber for sale at UltraSabers! We're masters of saber craft, after all — not padawans. Whether it's Emerald Premium Lightsabers you're after, or you simply need lightsaber parts like an empty hilt or single blade, we've got you covered there, too.