Cool Lightsabers
Cool lightsabers are usually found in a faraway galaxy, wielded by Jedi Knights and the Sith aligned with the dark side of the Force.
Searching the real-life cosmos for cool lightsaber designs may be easier than you think. You won't need to pilot an X-Wing to find what you are looking for. While durability is important, you also want a cool-looking lightsaber. It's one thing to defeat your opponent and another to do so with an impressively designed weapon.
Think of some of the coolest lightsabers in the Star Wars Universe — many of them aren't just cool; they're also unique. Lightsaber colors play a factor in this. Think of the black blade of the Mandalorian Darksaber. Or, consider the purple blade wielded by Mace Windu as the epic battles of the Clone Wars raged on. Plus, everyone was excited to see (spoiler) Rey's yellow, almost gold, lightsaber at the end of the Skywalker Saga. While there's nothing wrong with the classic blue, green or Sith red, these unique lightsabers can certainly be called "cool."
There are also cool and unique lightsabers that stand out because of their design. Cool lightsaber hilts like the crossguard of Kylo Ren or the double-bladed beast of Darth Maul are unique and awesome enough in concept to make a huge impression. The only way to get an actual lightsaber that's this cool is to customize your own.

Why You Need A Cool Lightsaber
You want the best lightsabers that can stand up to combat. You don't want your lightsaber to fail when the fate of the universe is at stake.
Durability is critical, but collectors want something more. They want a weapon that looks as great as it performs. Cool lightsaber designs are ones you want to display, too.
Cool-looking lightsabers give you bragging rights that go beyond your skill in battle. Finding the coolest lightsaber comes down to two main factors:
What Makes a Cool Lightsaber?
When you're combing the universe for the coolest lightsabers, the weapon's construction matters. Combat lightsabers made from aircraft-grade aluminum and similar materials are durable and lightweight.
Instead of looking at mass-marketed products, consider cool custom lightsabers. You can build your own lightsaber, single or double bladed, that is durable and powerful enough to withstand rigorous battles. Manufacturers like UltraSabers know strength is essential to collectors. For added durability, the saber's light source is in the hilt to prevent damage when you're fighting to save the galaxy.
Cool lightsaber designs are equally crucial, and the hilt is a big part of that. As mentioned, the hilt helps to protect the light source while also looking awesome. Cool lightsaber hilts are creatively designed and capable of withstanding heavy hits.
The blade is where contact is made, but the force travels to the hilt. It needs to be strong enough to withstand the hit and protect the expensive electronics inside. Without the electronics, you lose the fantastic light and sound effects.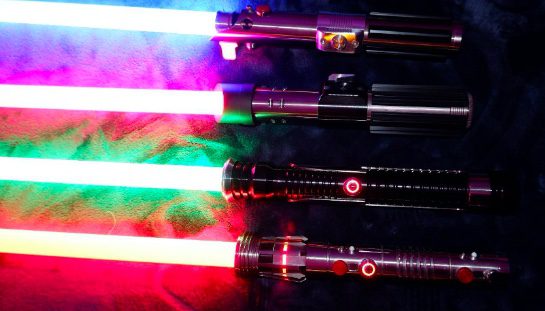 Why Buy Cool Lightsabers From UltraSabers?
You can spend years wandering up and down toy store aisles only to find the same cheaply-made lightsabers with boring designs. There's nothing that makes these lightsabers stand out, other than the low price.
Take one of these mass-marketed lightsabers into combat, and you may be laughed out of the battle before your weapon breaks under the force of the first strike.
When you want a durable and cool lightsaber, there is one place to go. UltraSabers offers cool custom lightsabers that will see you through the toughest duels.
We use aircraft-grade aluminum and battle-ready polycarbonate UltraBlades. The resulting product is a cool lightsaber that will make you look and feel like a true Jedi or Sith every time your blade is drawn.
The light source and other electronics are stored safely in the hilt. It's not only designed to look cool, but it's also a functional and highly durable lightsaber. The hilt protects the electronics from damage during hard hits, so you can always see the battle through to the finish.
Serious competitors may also want to take a look at our Heavy Grade blade options. Even Darth Vader would have trouble breaking one of these lightsabers.
---
Find Cool Lightsabers at UltraSabers Today
Search your feelings. The Force is telling you we offer the coolest lightsabers on the market.
The combination of our cool lightsaber hilt designs, durable materials and precise construction processes ensures you won't find anything better in the galaxy. Look through all of our cool lightsabers for sale and customize a cool-looking blade today.