The Third Sister Lightsaber
Third Sister Ignited - Full Circle Blade
Third Sister Ignited - Closed
Third Sister - Full Circle Blade
Third Sister Ignited - Full Circle Blade
The Third Sister From Ultrasabers.com
CHOOSE YOUR CONFIGURATION METHOD BELOW
Availability: LEAD TIME - Allow 1 to 3 Business Days for Fabrication
Questions? Call 832-596-9003 or Click Here for How to Buy
SPECIFICATIONS
All Aircraft Grade Aluminum Construction
Length: 15.5"
Width: 1.5"
Circle Blade Radius (Closed): 7"
Circle Blade Diameter (Open): 12.75"
Polycarbonate Blade
CREE XP-E2 or LED Engin High Powered LED
Featured Videos
The Third Sister
Description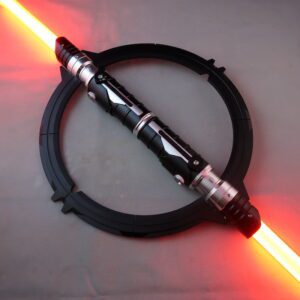 Ultrasabers is extremely proud to present: The Third Sister.
We've done a double bladed saber in a single hilt before, but the Third Sister takes it to a whole new level– Just check out that circle blade! We've never brought something like this to the arsenal before.
Clocking in at 15.5″, the Third Sister features an extremely comfortable ribbed grip that runs the length of the underside of the hilt and allows the saber to be wielded comfortably with a single hand, but easily transitioned to some quick hitting with a two handed grip. Silver and black paneling across the hilt give the saber a simple, yet distinct look that is complemented by the red accents that flank the Third Sister's covertec wheel.
Featuring a dual ignition switch configuration, the Third Sister is designed to be wielded as a single OR double bladed lightsaber. The lower switch on each Third Sister will be a latching switch and will control your lower blade, while the main/ higher switch will function as a master, igniting or deactivating both blades at the same time.
We've had sabers with blades before, but none like the Third Sister- The iconic Circle Blade that rings the entire hilt is a thing of beauty. Measuring at 7″ closed, and 12.75″ opened, the circle blade is sure to turn some heads in and out of combat.
This saber is available in either our Standard or LE versions, with the main difference being in the detailing of the Circle Blade. The Circle blade of the standard Third Sister will be completely anodized black, while the LE Third Sister's Circle Blade will be machined back to show a polished aluminum accent.
The Third Sister measures in at:
15.5″ Emitter to emitter
7" Radius with Circle Blade Closed
12.75" Diameter with Circle Blade Open
1.5" Hilt Diameter
77″ Tip to tip with two 32″ round tip blade equipped