Dark Standard Issue Battle Saber v3
Dark Standard Issue Battle Saber v3 Full View
Dark Standard Issue v3 Emitter
Dark Standard Issue v3 Pommel
Dark Standard Issue v3 With Lines Full
Dark Standard Issue v3 With Lines Emitter
Dark Standard Issue v3 With Lines Pommel
Here is a picture of the Dark Initiate v3 with some of our MHS compatible pommels for the Dark Liberator v3. From left to right: Catalyst, Dark Catalyst, Bellicose Long Grooves, Raven SS, Raven Plain, Dark Warglaive 2, Dark Warglaive, Arbiter, Archon, Consular pommels.
The Dark Standard Issue Battle Saber v3 - With Lines Ignited
The Dark Standard Issue Battle Saber v3 From UltraSabers.com
The Dark Standard Issue v3 Ignited
CHOOSE YOUR CONFIGURATION METHOD BELOW
Availability: LEAD TIME - Allow 1 to 3 Business Days for Fabrication
Questions? Call 832-596-9003 or Click Here for How to Buy
SPECIFICATIONS
All Aircraft Grade Aluminum Construction
Length: 12.25"
Width: 1.48"
Removable Pommel (MHS Compatible)
Polycarbonate Blade
CREE XP-E2 or LED Engin High Powered LED
Featured Videos
Ultra Sabers Dark Liberator and Dark Standard Issue - Transcript
Ultra Sabers Dark Standard Issue with Guardian Blue blade review! - Transcript
Ultrasabers Dark Standard Issue Grab Bag Review- Transcript
Dark Standard Issue V3 Review- Transcript
Description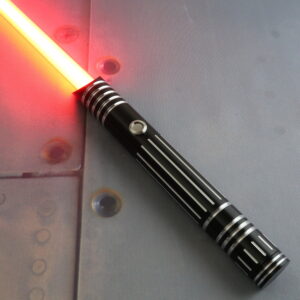 Ultrasabers is proud to present: THE DARK STANDARD ISSUE BATTLE SABER
The Dark Standard Issue Battle Saber is the work horse of the Ultrasabers arsenal. Designed to take punishment, perform faithfully, and be affordable enough for everyone.
The Dark Standard Issue Battle Saber v3 is made of aluminum to be light and durable and has been anodized black and given machined silver grooves for accent. With the reduced weight, you will find it easy to perform quick strikes, fast spins, and stay in the fight before being fatigued. The thick walled aluminum hilt is extremely durable and built to last. And now this staple in the Ultra Sabers line is sound capable and has an MHS compatible pommel in the v3 model.
The Dark Standard Issue v3 is also available with vertical grooves machined silver down the hilt body.
The Dark Standard Issue v3 comes with a brushed aluminum finish that has been black anodized and re-machined and polished, screw-on MHS pommel for easy battery access, and 36″ Ultra Blade.
The original Dark Standard Issue is 1.28″ wide and 12.25″ long, while the Dark Standard Issue v3 is 1.48″ wide and 12.25″ long. So you get the same size and feel of a Dark Standard Issue with some new great features.
The saber comes completely assembled and ready to go. The pommel is MHS (Modular Hilt System) Compatible, meaning it is removable and interchangeable with other MHS compatible parts. The Dark Standard Issue v3 saber is also available with our Obsidian Soundboard. These are both exciting new additions to our Standard Issue v3 saber.