The Bane From UltraSabers.com
CHOOSE YOUR CONFIGURATION METHOD BELOW
Availability: OUT OF STOCK - ON BACK ORDER - Ships in 4 to 20 WEEKS
Questions? Call 832-596-9003 or Click Here for How to Buy
SPECIFICATIONS
All aircraft aluminum construction
Removable emitter
Removable pommel (MHS compatible)
MLS (Modular LED System) unit
Polycarbonate UltraBlade
Low profile guarded push button switch
Seoul P4 or Luxeon Rebel Star
Powered by 4 AAA batteries
Featured Videos
Ultra Sabers Bane
Ultrasabers Darth Bane RGB Review PART 1 - Clear Mid-Grade Blade
UltraSabers Bane w/ Obsidian Review
Ultrasabers Review-Bane
Description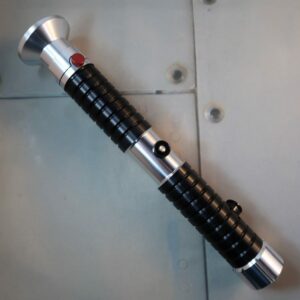 Ultrasabers is proud to present: THE BANE
Widely regarded as one of the saber community's most notorious, bold, sinister, and imposing pieces. It's big, it's bad and it's back! The Bane.
This saber is built with high quality aircraft aluminum. It will stand up to rigorous use time and again. The enlarged flanged emitter gives it a look that is sure to be noticed for all the right reasons. The grips above and below the switch housing have been grooved to provide superb wield-ability and the black anodizing gives it great accent and a dark and sinister look all it's own.
The Bane is also available with a Red-Green-Blue (RGB) color option with a Master switch which gives the saber the ability to instantly switch between the 7 colors with the push of a button. There is no drawback to this option, each color will be the same in brightness as any single color saber. Check out the pictures below to see is an example of the Bane in single color and RGB setups.
On the RGB Bane, the thoracic switch housing has been enlarged to encompass three switches. Each switch controls a different color, and as you can see, you can have more than one switch on at a time for color mixing. And with the Master switch you'll be able to turn the saber on and off to the same color mix.
The LED will come installed in a MLS (Modular LED System) unit.
The saber comes completely assembled and ready to go. The emitter and pommel are removable. The pommel is MHS (Modular Hilt System) Compatible, meaning it is removable and interchangeable with other MHS compatible parts. The Bane is able to accommodate our Obsidian Soundboards, Emerald Driver, and Diamond Controller installs.