The Archon v2.1 Pommel Options - The Standard Pommel (Left), Classic Pommel (Right)
The Archon v2.1 Disassembled
The Archon v2.1 From Ultrasabers
CHOOSE YOUR CONFIGURATION METHOD BELOW
Availability: LEAD TIME - Allow 1 to 3 Business Days for Fabrication
Questions? Call 832-596-9003 or Click Here for How to Buy
SPECIFICATIONS
All Aircraft Grade Aluminum Construction
Length: 12.375"
Width: 1.5"
Removable Pommel (MHS Compatible)
Removable Emitter (MHS Compatible)
Polycarbonate Blade
CREE XP-E2 or LED Engin High Powered LED
Featured Videos
Ultra Sabers Archon V2
Ultrasabers Archon v2.1 Review
Ultrasabers Emerald Archon V2.1 Review
Ultra Sabers Archon v2.1 with Consular Green blade review
Ultrasabers Archon v2.1 Review
Description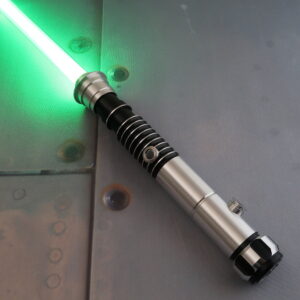 Ultrasabers is proud to present: THE ARCHON V2.1
I do truly believe that one look at this saber speaks for itself. It's gorgeous. But don't let it's beauty fool you, it's combat ready. This saber is built with high quality aircraft aluminum. It will stand up to rigorous use time and again. It's a 5 piece saber design with a highly pronounced flanged emitter and the classic skinny neck saber enthusiasts love. The saber body has a deep groove pattern on the grips and the pommel is wide with deep landings as well. The Archon v2.1 now comes standard with a covertec wheel.
The neck on the emitter is 3/8″ long and sets the entire saber off perfectly. The entire saber is 12″ assembled (12.375″ including the neck) so it's ideal for either two hand or one handed combat.
The Archon v2.1 saber comes completely assembled and ready to go. The Archon v2.1 is a 5 part saber, and can be disassembled. The emitter, neck, and pommel are MHS (Modular Hilt System) Compatible, meaning that they are removable and interchangeable with other MHS compatible parts.