Real Lightsabers
Real lightsabers are replicas which mimic every detail of the versions of lightsabers used in the Star Wars universe. Lightsabers are a sword like weapon which consists of a hilt and plasma beam when activated for battle. Lightsaber replicas have authentic hilts and blades which light up when activated in several different colors and may include sound effects, such as the humming and crackle sounds when hitting another lightsaber or object.
Real lightsabers were made popular by the movie Star Wars which was released in 1977 and since then has evolved to include an entire universe surrounding the science fiction series including six movies, television specials, animated features and comic books. The first movie began with Episode IV: A New Hope and was divided into a trilogy based upon the adventures of Luke Skywalker as he and his friends fought the Empire and Darth Vader to bring peace again to the galaxy.
Episode V, The Empire Strikes back was released in 1980 and the third installment, Return of the Jedi, were released three years apart with Episode VI being released in 1983. Real lightsabers become a pop culture icon associated with this trilogy of films as replicas were demanded by the fans of the series. The next trilogy which was a prequel to the original films would not be released until sixteen years later.
Episode I, The Phantom Menace was release in 1999 and follows the life of Anakin Skywalker and resulted in two additional films, Episode II: Attack of the Clones being released in 2002 and Episode III: Revenge of the Sith in 2005. This trilogy of films shows how Anakin went from being a Jedi to falling to the dark side of the force and turning into Darth Vader. Real lightsabers continued to evolve with the new set of films featuring new double bladed lightsabers as well as the introduction of more colors such as purple and yellow.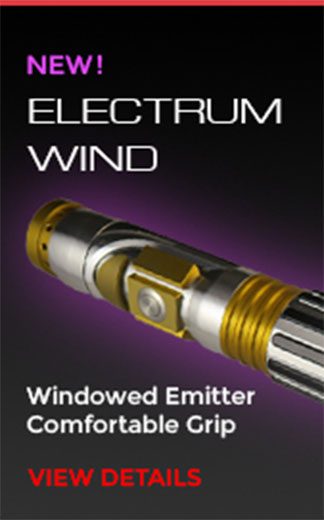 The first real lightsabers were available in only two color choices of red or blue. Red was used to represent Darth Vader and the Sith while blue represented Obi-Wan Kenobi and the Jedi. Green was also introduced during the first trilogy as being used by Luke Skywalker and become another acceptable color choice for the Jedi in future installments. The color purple was first featured in Episode I and yellow was first featured in Episode III.
The success of the Star Wars films led to the creation of video games, paperback novels, comic books and animated series. The expansion of the Star Wars universe also led to an entire history being created detailing different events as well as the evolution of the lightsaber. Real lightsabers available to fans follow traditions established in this history where each lightsaber user, whether Jedi or Sith, would create their own custom lightsaber to fit their fighting abilities.
Real lightsabers are available from Ultra Saber, www.ultrasabers.com which provides people the ability to build their own customized lightsaber or use one of the movie replica versions like Anakin Skywalker, Darth Vader, or Luke Skywalker. For more information about available lightsabers and customizations visit the website or call 408-644-2910.
More Glossary Terms
A FX lightsaber is a lightsaber which has been offers a high quality replica of the lightsabers features in the Star Wars movies, comics, and animated features.
FX lightsabers have been made popular in mainstream culture thanks to the Star Wars movies, cartoons, and comics.
If you're not necessarily a Star Wars fan yourself, you may not even realize what a light saber is and why it's so special to such a fan.
Kids young and old appreciate toys as gifts, and true fans of the Star Wars movie franchise will appreciate light sabers of any size and with any number of details.
Fans of the Star Wars universe can find lightsabers for sale from a variety of places including retail stores, conventions and online.
Real lightsabers are replicas which mimic every detail of the versions of lightsabers used in the Star Wars universe. Lightsabers consist of a hilt and plasma beam.