The Chosen One CE No Windows - Full View
The Chosen One SE Emitter
The Chosen One SE Emitter Shroud
The Chosen One SE Windowed Emitter & Illuminated A/V Switch
The Chosen One SE Anti Vandal Switch & Switchbox
The Chosen One SE Activation Black (Left) & Silver (Right) Switch Options
The Chosen One SE - Ignited
CHOOSE YOUR CONFIGURATION METHOD BELOW
Availability: LEAD TIME - Allow 1 to 3 Business Days for Fabrication
Questions? Call 832-596-9003 or Click Here for How to Buy
SPECIFICATIONS
All Aircraft Grade Aluminum Construction
Length: 11.125"
Width: 1.55"
Removable Pommel (MHS Compatible)
Polycarbonate Blade
CREE XP-E2 or LED Engin High Powered LED
Featured Videos
Ultrasabers Chosen One
UltraSabers Emerald Chosen One SE Vader Review
Ultra Saber Chosen One and Initiate Review
Ultra Sabers - Chosen One CE Review
Description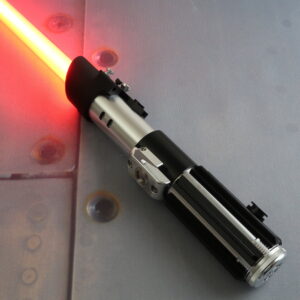 Ultrasabers is proud to present: THE CHOSEN ONE – SE.
Yes, one of the most coveted lightsaber designs in the saber kingdom has finally come to the Ultrasabers' line up. Just take a look at those pictures and take a look at the video, this saber belongs in everyone's arsenal! This is an extremely well designed and well put together saber that features tons of cool options and ways to customize.
The slanted shroud on the Chosen One's emitter provides an AWESOME accent for your blade, along with the removable knurled and flat screw on the rear of the hilt. The blade holder comes in two forms: a more classic look with lines, or one with windows that lets light from your blade shine through for some added flare. The blade holder is removable and interchangeable so you can actually buy both and swap between them if you choose to.
Every single one of Ultrasabers Chosen One SE models comes standard with an Anti Vandal switch and a switch activation box. This makes the Chosen One SE one of our only hilts that allows you to get your saber without sound WITH an Anti Vandal switch! The activation box that houses the Chosen's A/V switch comes in both black and silver for even more diversity, and the lever on the activation box is very easily removed so you can change the look of your Chosen One that way as well.
Ultrasabers Chosen One SE comes standard with a Covertec Wheel installed, meaning there is absolutely nothing missing from this awesome saber. And of course, we here at Ultrasabers put our own touches on the Chosen One SE and made it sturdy enough to duel with, and BEYOND extravagant enough to display as the centerpiece in your collection.
This saber is built with high quality T6 aircraft grade aluminum, meaning that it will stand up to rigorous use time and again.
The Chosen One SE comes completely assembled and ready to go. This saber is 11.125″ long and 1.55″ wide. The pommel is vented for sound, and is TCSS MHS (Modular Hilt System) Compatible, meaning that it is removable and interchangeable with other MHS parts.
Find these and other articles in the Holocron.