Custom Bellicose Lightsaber Full View Ignited
Emitter for Bellicose Custom Lightsaber with Sound
Custom Bellicose Obsidian Lightsaber Emitter Shroud
Close View of Bellicose Custom Lightsaber with RGB LED Setup
Bellicose Custom Lightsaber Emitter Blade Holder Options in Black (Left) & Silver (Right)
Bellicose Custom Lightsaber Short Groove Pommel (Left) and Long Groove Pommel (Right)
Long Groove Pommel (Left) and Short Groove Pommel for Bellicose Lightsaber Pommels (Right)
Bellicose Ignited Custom Lightsaber
Bellicose Lightsaber Against a White Background
CHOOSE YOUR CONFIGURATION METHOD BELOW
Availability: LEAD TIME - Allow 1 to 3 Business Days for Fabrication
Questions? Call 832-596-9003 or Click Here for How to Buy
SPECIFICATIONS
All Aircraft Grade Aluminum Construction
Length: 13.5"
Width: 1.5"
Removable Pommel (MHS Compatible)
Polycarbonate Blade
CREE XP-E2 or LED Engin High Powered LED
Featured Videos
Ultra Sabers Bellicose
Ultrasabers Bellicose Review
Ultrasabers Bellicose Review
Ultra Sabers Bellicose with Arctic Blue blade review!
Ultrasabers Bellicose Review
Description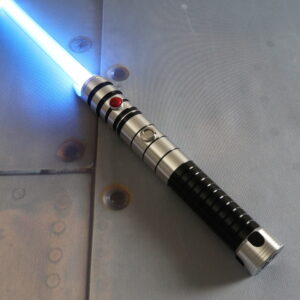 Ultrasabers is proud to present: THE BELLICOSE
This is the first Ultra Saber to come standard with a slanted blade shroud emitter and it gives the saber a very awesome, distinct look. This saber is built with our standard high-quality polished T6 aircraft aluminum and will stand up to rigorous use in combat time and again.
The Bellicose comes with a button accessory above the switch. This comes standard in red, but it can be upgraded to blue, green, gold, bronze, or chrome. It's a very nice way to customize this Ultra Saber to be your very own. The removable blade holder below the shroud comes in your choice of silver or black. Giving you even more options to customize and tweak this saber to look your own. And we didn't stop there, it comes with two pommel versions. One with deeper/longer grooves and one with shallower/shorter grooves.
This saber also comes in an RGB version, giving you the ability to wield 7 different colors in one hilt with sound. The RGB version is the same length as the single color version so there is absolutely no drawback to this option.
The Bellicose comes completely assembled and ready to go. The pommel is MHS (Modular Hilt System) Compatible, meaning it is removable and interchangeable with other MHS compatible parts. The Bellicose is is able to accommodate our Obsidian Soundboards, UltraProffie Soundboards, and Diamond Controller installs.