The Consular Lightsaber Ignited
The Consular Lightsaber Emitter
The Consular Lightsaber Pommel
The Consular Lightsaber Disassembled
The Consular Lightsaber With Shroud Removed
The Consular Lightsaber Shroud Options Polished Aluminum (Bottom), Nickel Plated (Top)
The Consular Lightsaber with Purple Blade
The Consular From UltraSabers
CHOOSE YOUR CONFIGURATION METHOD BELOW
Availability: LEAD TIME - Allow 1 to 3 Business Days for Fabrication
Questions? Call 832-596-9003 or Click Here for How to Buy
SPECIFICATIONS
All Aircraft Grade Aluminum Construction
Length: 11.75"
Width: 1.5"
Removable Pommel (MHS Compatible)
Removable Emitter (MHS Compatible)
Polycarbonate Blade
CREE XP-E2 or LED Engin High Powered LED
Featured Videos
Ultra Sabers Consular
Ultrasabers - 'The Consular' Obsidian v4 Review
Ultrasabers Consular review
Ultrasabers Consular Review
Description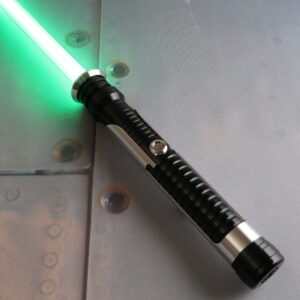 Ultrasabers is proud to present: THE CONSULAR
This is the first Ultra Saber to come standard with a shroud overlay and wow does it look superb. This saber is sleek and classy, and like every Ultra Saber it's combat ready. This saber is built with high quality aircraft aluminum. It will stand up to rigorous use time and again. The slightly flanged and grooved emitter gives the saber a polished look that easy on the eye and even easier to wield in your hands. Grooves have been engraved into the hilt body for superb grip and a stylish look and the shroud overlay makes this unlike any other Ultra Saber before it.
The Ultra Sabers' Consular also comes with the option to upgrade the shroud with Nickel Plating. You thought this saber looked great before? Check out how good this Nickel Plated shroud looks next to our standard shroud. Both look awesome on the Consular, but wow that Nickel Plating really shines!
The Consular comes standard with a covertec knob and the shroud itself is removable, opening up all types of avenues for customizations and looks like a totally different saber with it removed.
The Consular comes completely assembled and ready to go. The emitter and pommel are MHS (Modular Hilt System) Compatible, meaning that they are removable and interchangeable with other MHS compatible parts.
Find these and other articles in the Holocron.