Dark Arbiter From UltraSabers.com
CHOOSE YOUR CONFIGURATION METHOD BELOW
Availability: LEAD TIME - Allow 1 to 3 Business Days for Fabrication
Questions? Call 832-596-9003 or Click Here for How to Buy
SPECIFICATIONS
All Aircraft Grade Aluminum Construction
Length: 14"
Width: 1.45"
Removable Pommel (MHS Compatible)
Removable Emitter (MHS Compatible)
Polycarbonate Blade
CREE XP-E2 or LED Engin High Powered LED
Featured Videos
Ultrasabers Arbiter & Dark Arbiter
Custom Dark Arbiter Review (Ultra Sabers)
Ultrasabers Dark Arbiter Review
Ultrasabers Dark Arbiter and Dominix v3 review
Ultrasabers Arbiter Review
Description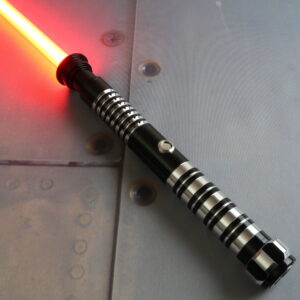 Ultrasabers is proud to present: THE DARK ARBITER
Arbiter: one who has the power to judge or ordain at will.
One look at this massive saber, and it will become clear why it is named such. We have made the Arbiter before but this new incarnation is even more impressive than the last. Want a saber that stands out from the crowd? This is it. Say hello to the black anodized version of the Arbiter.
The Dark Arbiter is built with the highest quality black anodized T6 Aircraft grade aluminum. It will stand up to rigorous use time and again. The materials used to forge this lightsaber are second to none. The detail work on this saber has been machined into the hilt and polished back to an elegant silver shine.
The flanged and ported emitter crowns this saber with nobility and authority. Your controlling hand will latch onto the grenade fore grip securely and comfortably. Polished, raised bands on the hilt body not only look elegant, but are perfectly functional for your trailing hand. And last but not least, a very impressive armitage pommel is sound ready.
This saber is 14″ long and 1.450″ wide.
The Dark Arbiter comes completely assembled and ready to go. This is a three piece saber (emitter, body, and pommel) and all four pieces are MHS (Modular Hilt System) Compatible, meaning that they are removable and interchangeable with other MHS compatible parts.