The Aeon Lightsaber Emitter
The Aeon v2 Lightsaber Pommel
The Aeon v2 Lightsaber Ignited
The Aeon v2 Lightsaber by UltraSabers
Availability: LEAD TIME - Allow 1 to 3 Business Days for Fabrication
Questions? Call 832-596-9003 or Click Here for How to Buy
SPECIFICATIONS
All aircraft aluminum construction
1.45"" wide
12.375"" long
Removable pommel
Low profile guarded push button switch
Featured Videos
Ultra Sabers Aeon
Ultrasabers Aeon V2 Adegan Silver with Lee Filters (Review/ Tutorial)
Ultrasabers The Aeon RGB Stunt Lightsaber Review
Ultrasabers Aeon review
Description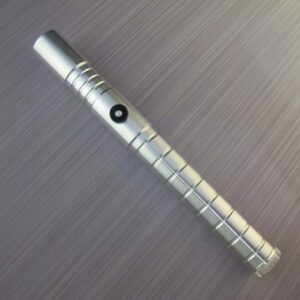 The Aeon is the lightside version of our beloved Dominix v2. This is one of the favorite hilt designs among duelists; slim, sleek, durable, and cheap! The Aeon hilt is constructed 100% from T6 aircraft grade aluminum. The pommel is threaded, and the lightsaber comes with grooves. The Aeon is the next level up from an Initiate, like a big brother, and as such, the Aeon is essentially a longer version of the Initiate V2. So if you have a youngling, you can get them a matching lightsaber!
We didn't stop with making the Aeon out of metal, we also made an RGB version! Now you can have seven colors in one lightsaber that you can activate on the fly! The RGB option has no downfalls, the colors are just as bright as our single color hilts!
The hilt measures 12 inches long and comes with a 36″ Ultra blade. The material is T6 aircraft grade aluminum. The pommel unscrews for easy battery access and is powered by regular alkaline batteries.