Availability: LEAD TIME - Allow 1 to 3 Business Days for Fabrication
Questions? Call 832-596-9003 or Click Here for How to Buy
Description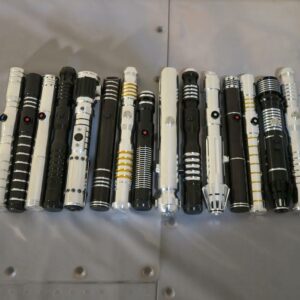 This item is not a bag of sabers, it is a single, pre-constructed Stunt (NO SOUND) lightsaber hilt selected 100% at random.
These Grab Bag Sabers come with fully functional and warrantied electronics. The hilts may have cosmetic flaws.
You have the option to get your Grab Bag Saber without a blade or with the full size 36″ blade type of your choice. You can have the color of the lightsaber blade picked at random or you can pick this as well.
You cannot select the hilt type, color, size, quality, finish, or anything in regards to the construction of the saber's hilt. This will be 100% random.