The Catalyst From Ultrasabers
CHOOSE YOUR CONFIGURATION METHOD BELOW
Availability: LEAD TIME - Allow 1 to 3 Business Days for Fabrication
Questions? Call 832-596-9003 or Click Here for How to Buy
SPECIFICATIONS
All Aircraft Grade Aluminum Construction
Length: 12.5"
Width: 1.45"
Removable Pommel (MHS Compatible)
Removable Emitter (MHS Compatible)
Polycarbonate Blade
CREE XP-E2 or LED Engin High Powered LED
Featured Videos
Description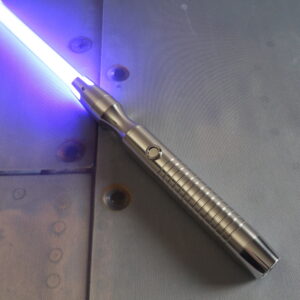 Ultrasabers is proud to present: THE CATALYST
A Catalyst is the prime agent to any change; the name suits this saber perfectly. It is elegant and beautiful, yet retains a very menacing appeal. It will stand up to rigorous use time and again.
The 4 pronged crown emitter allows the light of the blade to shine through for a distinct aggressive look. The curved choke point directly below the emitter is perfect for the controlling hand and is extremely comfortable. Rings have been intricately engraved in the hilt body for superb grip of the trailing hand, not to mention they look great. Finally, the pommel is angled to match the emitter.
The Catalyst comes completely assembled and ready to go. The pommel and emitter are MHS (Modular Hilt System) Compatible, meaning that they are removable and interchangeable with other MHS compatible parts. The Catalyst is able to accommodate our Obsidian Soundboards, UltraProffie Soundboards, and Diamond Controller installs.