Dorinian Full View - Close
Silver Non-Illuminated AV (LEFT) & Guarded Switch (RIGHT)
All Four Dorinian Models (Sold Separately)
CHOOSE YOUR CONFIGURATION METHOD BELOW
Availability: LEAD TIME - Allow 1 to 3 Business Days for Fabrication
Questions? Call 832-596-9003 or Click Here for How to Buy
SPECIFICATIONS
All Aircraft Grade Aluminum Construction
Length: 11.25"
Width: 1.5"
Removable Pommel (MHS Compatible)
Removable Emitter (MHS Compatible)
Polycarbonate Blade
CREE XP-E2 or LED Engin High Powered LED
Featured Videos
Ultrasabers Dorinian
Description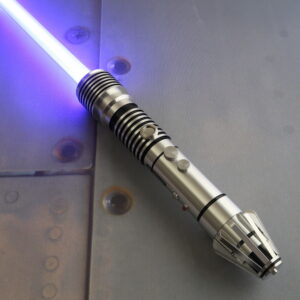 Ultrasabers is proud to present: THE DORINIAN
The Ultrasabers Dorinian is class exemplified. From top to bottom, this lightsaber packs in fan-favorite features that we've only ever dabbled in before, giving fine detail to its evident power.
The hilt of the Dorinian features a ribbed grip that rests just below a choke point in its emitter, making it extremely comfortable for single or double handed wielding. The MHS Compatible grooved emitter crowns the Dorinian with a shallow machined horizontal pattern.
Two familiar buttons line the front of the lightsaber's body below its switch, while jeweled screws decorate the back of the saber. Simple matching machined detailing on the left and right of the hilt gives the Dorinian a simple flair not seen on many sabers in the Ultrasabers arsenal.
Finally, the pommel. The Dorinian features a one of a kind, all-new pointed style pommel that really sets this design off and is sure to make it a spectacle in any collection. We're thrilled to add it to the UltraSabers arsenal. And yes, it is absolutely MHS Compatible.
The pointed pommel and grooved emitter put this hilt model in a class of its own. This is yet another classic design that has been highly requested and we are extremely excited to bring it to you with a combination of fashion, style, durability, and versatility only available on an Ultrasaber.
As always, this lightsaber is built with high-quality aircraft aluminum meaning it will stand up to rigorous use time and time again. The Dorinian comes completely assembled and ready to go. The emitter and pommel are both removable and are both MHS (Modular Hilt System) Compatible, meaning they are removable and interchangeable with other MHS parts.