Fulcrum & Lost Gray Full View Close (Lost Gray SOLD SEPARATELY)
Fulcrum & Lost Gray (Lost Gray SOLD SEPARATELY)
Fulcrum & Lost Gray (Lost Gray SOLD SEPARATELY)
Fulcrum Activation Box Close (Classic Silver on Left & Standard Black on Right)
Fulcrum Activation Box Far (Classic Silver on Left & Standard Black on Right)
The Fulcrum From UltraSabers.com
The Fulcrum & Lost Gray Ignited
CHOOSE YOUR CONFIGURATION METHOD BELOW
Availability: LEAD TIME - Allow 1 to 3 Business Days for Fabrication
Questions? Call 832-596-9003 or Click Here for How to Buy
SPECIFICATIONS
All Aircraft Grade Aluminum Construction
Length: 14"
Width: 1.6"
Removable Pommel (MHS Compatible)
Polycarbonate Blade
CREE XP-E2 or LED Engin High Powered LED
Featured Videos
Ultrasabers Fulcrum & Lost Gray
Description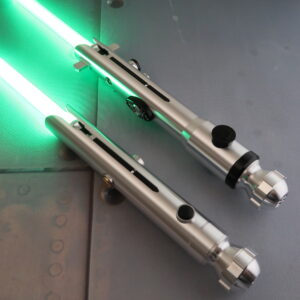 From Padawan to Master, this lightsaber is one you can wield proudly throughout your training. The Fulcrum and Lost Gray are iconic and beloved lightsaber designs that Ultrasabers is immensely excited to have in our lineup. This listing is dedicated to the Fulcrum design, so we'll break down the finer details of its design here.
Like all of our DIY lightsabers, the Fulcrum is crafted from T6 aircraft aluminum. Paired with a polycarbonate UltraBlade, this lightsaber is ready for combat. At the top of the hilt, two tombstone-shaped appendages offer a subtle cross shape that distinguishes it from the similar Lost Gray design. The black emitter has the appearance of being tucked inside the silver outer casing, a design that looks stunning with or without an illuminated blade. The rounded pommel has a beautiful vent design to let out crisp, immersive sound, but it's also TCSS MHS compatible if you want to switch it out. If you're looking for a lightsaber DIY project, this is the hilt for you — on top of changing the pommel, you can choose from multiple activation box and AV switch designs, giving you the flexibility to make a sleeker or more varied design.
The Fulcrum lightsaber comes completely assembled and ready for combat from the moment you take it out of the box. Ready to get started on your DIY lightsaber? Craft your very own Fulcrum today.