The Malice Pommel Options Square Black & Silver (Left), Round (Middle), Square Silver (Right)
The Malice Claws Sizes Small (Left), Large (Right)
The Malice MHS Pommel Options Square Silver (Left), Round (Middle), Square Black & Silver (Right)
The Malice Activation Boxes Black Guarded Switch (Right), Black Activation Box (Middle), Silver Activation Box (Right)
The Malice From UltraSabers.com
CHOOSE YOUR CONFIGURATION METHOD BELOW
Availability: OUT OF STOCK - ON BACK ORDER - Ships in 4 to 20 WEEKS
Questions? Call 832-596-9003 or Click Here for How to Buy
SPECIFICATIONS
All Aircraft Grade Aluminum Construction
Length With Small Claws: 19"
Length With Large Claws: 21.5
Width: 1.5"
Removable Pommel (MHS Compatible)
Removable Emitter (MHS Compatible)
Polycarbonate Blade
CREE XP-E2 or LED Engin High Powered LED
Featured Videos
Ultrasabers Malice
Ultrasabers Malice Custom Lightsaber Review
Ultrasabers Malice in Blazing Red
Description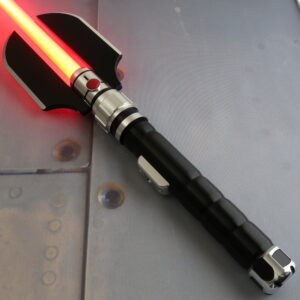 Another one of the galaxy's most coveted saber designs has finally come to the Ultrasabers line up.
First: The claw blades have DULL edges, they are NOT SHARP.
Just take a look at the video and pictures, this saber is begging you to wield it!
Ultrasabers Malice is a BEAST!!! If you are faint of heart or don't want your saber to be noticed, steer clear of the Malice. This saber will stand out for all the right reasons!
The emitter is one of a kind. The claw blades come in two sizes small and large. The claw blades themselves are anodized black and the edges are silver to give it a pronounced and menacing look (Please note: the claw blades are NOT sharp). The button on the emitter can come in any of our 6 available button colors.
The Malice Lightsaber can come equipped with our normal guarded switch or an AV switch with a bezel or you can get your AV switch mounted in an activation box. With all these options you can really make this saber your own.
The Ultrasabers Malice pommel comes in three different versions. The Round version, the Square version, and the Square Black & Silver version. All 3 look great on this hilt, you can't go wrong with any of them. The Round Pommel has a more traditional look while the Square pommels are newer to Ultrasabers and give the saber a very distinct look.
The entire hilt is just gorgeous. It is a BLAST to wield and it will catch everyone's attention in your hands, on your covertec clip, or on your saber stand. This is one saber that no one will miss.
Do you have what it takes to tame the Malice?
The saber comes completely assembled and ready to go. The pommel and emitter are TCSS MHS (Modular Hilt System) Compatible, meaning they are removable and interchangeable with other MHS parts.