NeoPixel Lightsaber vs. UltraPixel Lightsabers
There are many valid reasons to own a battle-ready lightsaber. Many fans value their lightsaber for its dueling capabilities, while others primarily prefer to display theirs in a suitable spot alongside their other collectibles. But it's fair to say that most fans rate accurate aesthetics as among their most cherished characteristics in a lightsaber. That is, fans tend to prefer lightsabers that resemble, at rest and in action, the sabers they're accustomed to seeing in the cinematic representations of the Star Wars universe.
The demand for visual authenticity has led to the development of what is commonly called a pixel lightsaber. Noting this trend, UltraSabers entered the fray in 2021 by coming out with its UltraPixel lightsaber, which has been compared with the more established "NeoPixel" design created by Adafruit, as well as similar products offered by other companies.
What are the differences between these two types of lightsabers? Which is best for your purposes? Keep reading for more information.
What Is a NeoPixel Lightsaber?
In recent years the fan community has been abuzz with talk about "NeoPixel" lightsaber blades, but there's still a lot of confusion out there about what is meant by this. One important point often overlooked is that "NeoPixel" is not a generic name; it is a registered trademark of Adafruit, and should properly be used only in reference to that company's products.
Even so, this sort of design has been adopted by a number of lightsaber manufacturers. That's why it has become common to discuss "NeoPixel sabers" in the general sense. However, this article will use the term "pixel lightsabers" to describe products that employ this basic type of design.
What do people mean when they talk about these kinds of lightsabers? They're basically talking about a saber design where the blade contains LEDs (light-emitting diodes), rather than relying solely on an in-hilt light source. This design produces a distinctly vivid, colorful blade that old-fashioned lightsabers on the market simply cannot equal.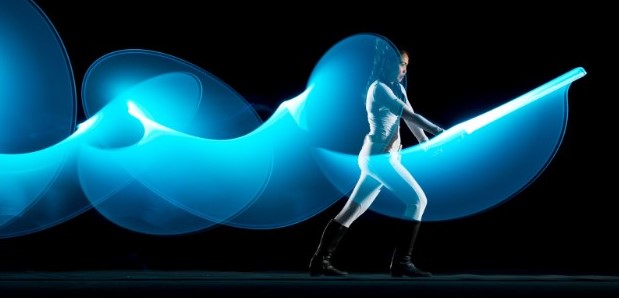 Pixel Illumination
The secret of pixel sabers lies in their method of producing light. The use of LEDs inside the blade results in a bright, even illumination throughout. It has a "full," unbroken luminosity that is appealing to the eye. Adafruit's NeoPixel LEDs achieve this effect with individually addressable RGB (red, green, blue) color pixels and strips in conjunction with a single-wire control protocol.
By contrast, standard lightsabers often display a noticeably uneven illumination. As the eye scans the blade from the hilt to the tip, the light becomes progressively dimmer. The reason for this is obvious: Because the light is projected from the hilt, the opposite end of the blade doesn't receive as much illumination as the area nearest the wielder's hand. It tends to look wrong to a lot of fans, as cinematic lightsabers do not have that appearance.
Extension and Retraction
Pixel sabers do more than just radiate brightly. The use of LEDs also enables these types of lightsabers to provide extension and retraction effects, which aren't possible with typical in-hilt light sources. What this means is that pixel sabers can light up and turn off in a gradational manner similar to those in the Star Wars cinematic universe.
As every fan knows, cinematic lightsabers don't simply turn on like a lightbulb—the blade rapidly projects from the hilt until the plasma reaches its full length. Similarly, when the user turns off the lightsaber, the blade seems to pull back into the hilt. With pixel lightsabers, you can replicate this effect.
These are the features that characterize pixel lightsabers, but they generally include a variety of additional visual and audio effects, which vary according to manufacturer.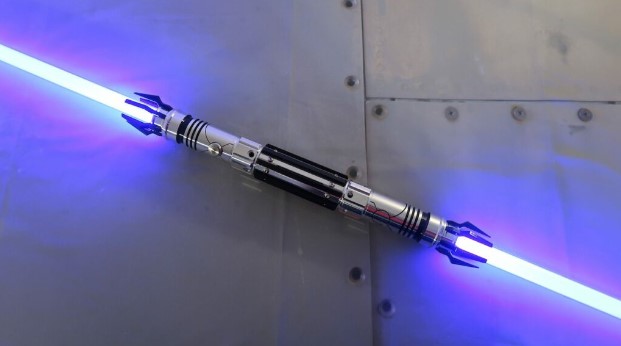 Enter the UltraPixel Lightsaber
So how does the UltraPixel lightsaber stack up against the competition? UltraSabers' UltraPixel sabers are engineered to give their owners an enormous degree of control over the look and sound of these custom accessories. Whatever your saber design preferences, it's likely that the UltraPixel design will help you realize them. Notable UltraPixel features include:
UltraPixel String Blade – This innovative blade incorporates 127 individual LEDs to enable a variety of visually compelling effects, and provides some of the brightest colors you'll find in the lightsaber world today.
NEW Obsidian Soundboard with Chassis – This high-quality soundboard with built-on chassis is powered by a single 3.7V, 18650 Li-Ion rechargeable battery that can be relied on for many hours of service. You can choose from three options: Obsidian Lite (one non-rewritable sound font), Obsidian USB3 (one rewritable sound font), and Obsidian USB4 (ten rewritable sound fonts). (Note that the UltraPixel String Blade must be used in conjunction with one of these NEW Obsidian soundboards.)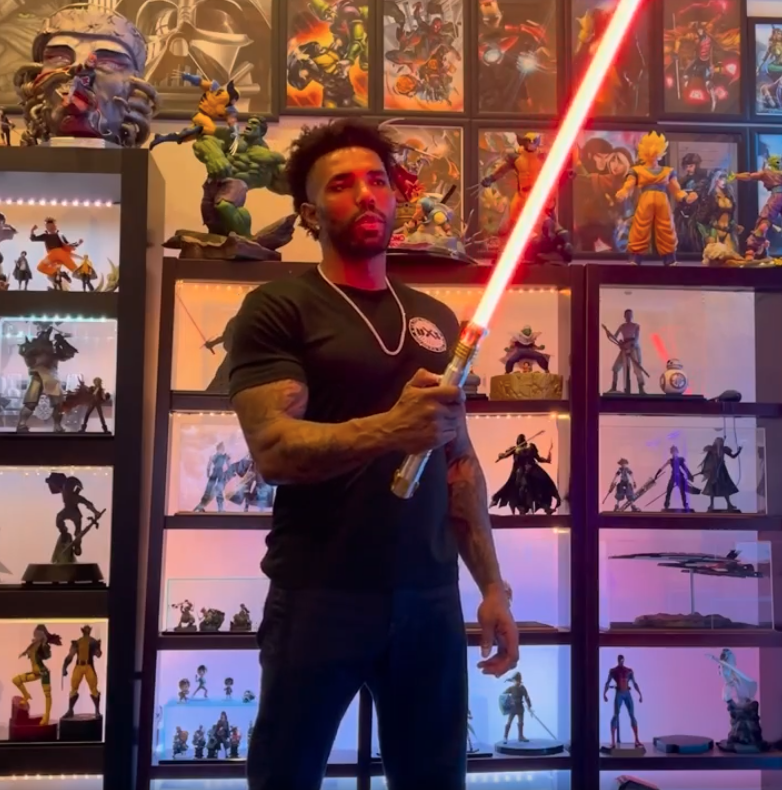 On-the-fly adjustability – Gesture-controlled settings allow you to easily cycle through brightness, color, sound, and volume options by simply pressing a button and moving the saber through a range of motion—all without needing to connect your saber to a computer.
Extension and retraction effects – Not only do you have access to this awesome option, you can even modify its speed to suit your preference, enabling you to turn on your saber with a sudden surge or allow the light to gradually fill the blade in an ominous fashion.
Latch Lockup feature – This option produces a shimmering effect when two lightsabers become locked up with each other.
Auto-power-off – To help conserve your battery, it is configured to power off at timeout or when it is running low.
Audio memory – The UltraPixel saber can store up to 6:40 of audio.
When it comes to creating your own custom UltraPixel saber, you have literally dozens of high-quality hilts to select from. All UltraPixel hilts have the durable all-aircraft aluminum construction for which UltraSabers has become widely known in the lightsaber community. With the Obsidian software, it's a simple matter to create customizations to your heart's content. You can easily tweak standard options such as pulse, Flash on Clash, and other interesting effects.
Can you duel with your UltraPixel lightsaber? Certainly—all these sabers include a polycarbonate blade that is created to endure the rigors of sparring. And the Latch Lockup feature can supply an added twist to your dueling endeavors. Whether you're into sparring, lightsaber forms, or just enjoying the look of your UltraPixel, you'll get what you need with this world-class product.
UltraPixel sabers represent a significant leap in the evolution of this increasingly popular type of LED-enhanced design. Feel free to explore the UltraSabers catalog to view the various hilts and custom options available with UltraPixel lightsabers. For further discussion of UltraPixel sabers, consider joining the bustling fan discussion board over at SaberForum.com. Don't hesitate to contact UltraSabers with any questions you have about UltraPixel lightsabers or any other product displayed in the online catalog.