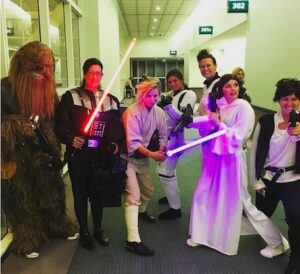 Winning over the hearts of nerds might not be the easiest of tasks, but every now and then someone comes along and just makes it look like a walk in the park… Or a trot in the ring?
Big Bang Theory's star Kaley Cuoco donned the robes of a certain Jedi Knight while she took part in the 2nd Annual Longines Masters Competition in Los Angeles on Saturday, making every nerd in EarthRealm fall as in love with her as those in the TV world.. Armed with a well practiced skill-set for riding, and an Archon v2 from UltraSabers, Kaley took 2nd place in the event, raising $35,000 for her charity through the event.
Following the equestrian competition, the rest of the star's night was spent battling the Dark Lord of the Sith (and undoubtedly saving the galaxy) with her Archon v2 from us here at UltraSabers! Judging by the fact that there is no completed Death Star, it looks like her night was a blast! We were thrilled when we were contacted about the saber for this event, and we're even more excited now after seeing it in action!