The Dark Princess From Ultrasabers
The Dark Princess - Ignited
The Dark Princess Windowed Emitter & Thin Neck
The Dark Princess Grip & Pommel
The Dark Princess Full Hilt
The Princess - All 4 Models
CHOOSE YOUR CONFIGURATION METHOD BELOW
Availability: LEAD TIME - Allow 1 to 3 Business Days for Fabrication
Questions? Call 832-596-9003 or Click Here for How to Buy
SPECIFICATIONS
All Aircraft Grade Aluminum Construction
Length: 13.5"
Width: 1.5"
Removable Pommel (MHS Compatible)
Removable Emitter (MHS Compatible)
Polycarbonate Blade
CREE XP-E2 or LED Engin High Powered LED
Featured Videos
Description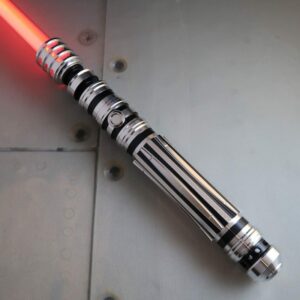 No.  There is another…
Ultrasabers is proud to present: The Dark Princess.
We've been pretty hard at work this year, and we know you'll all be just as excited as we are to add this saber to the Ultrasabers lineup.  Say hello to the Dark Princess.  The Dark Princess brings an absolutely unique design to the arsenal, and is packed with features and details you won't find on any other Ultrasaber.
We've designed the Dark Princess to be an unmistakable saber both in and out of combat.  A thin-neck design is one we're proud to bring to another saber, but this will be the first time one has been topped with a windowed Emitter!  Twelve (12) horizontal windows wreathe the emitter of the Dark Princess, giving it a brilliant glow and amazing look while ignited.
We knew the Dark Princess needed to flourish in combat so we included a number of choke-points below the thin-neck that give the wielder several options to position a main hand for quick spins and fast-paced combat.  We crafted the Dark Princess to be light enough to be wielded comfortably with a single hand while being long enough for a comfortable grip with a second hand to accommodate various combat styles.  The grip of the Dark Princess features a new ridged design, with anodized accents that match colors across the emitter and pommel.
Finally, the Dark Princess is as bold as she is tenacious, and her presence is not to be missed.  The pommel of this saber has been designed to announce itself in battle, featuring a resonance chamber that amplifies sound when equipped with any of the Obsidian Soundboards (which we definitely recommend).
The Princess will come standard with a non-illuminated A/V switch, and Heavy Grade Blade.
The Princess will be available in our four standard anodized finishes:
The Princess itself will arrive in our regal and commanding Gold.
The Azure Princess will come anodized in our brilliant and royal blue
The Crimson Princess will be available in our sinister red
The Dark Princess will feature the classic black you see here