Phantom Initiate V2 Separated
Phantom Initiate LW V2 Separated
Here is a picture of the Dark Initiate v3 with some of our MHS compatible pommels for the Dark Liberator v3. From left to right: Catalyst, Dark Catalyst, Bellicose Long Grooves, Raven SS, Raven Plain, Dark Warglaive 2, Dark Warglaive, Arbiter, Archon, Consular pommels.
Availability: DUE TO HIGH ORDER VOLUME Allow 1 to 2 WEEKS for Fabrication
Questions? Call 832-596-9003 or Click Here for How to Buy
Description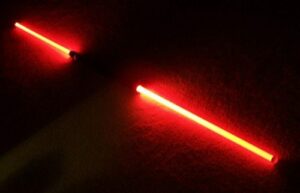 This is the new and greatly improved Phantom Initiate. This is not just a Phantom V2 with short blades. The hilt as well as the blades are much shorter than the full size Phantom V2, making this a true Initiate staff and perfect for younglings.
This staff is vastly superior to it's predecessor in many ways. First and foremost, being that it is crafted from black anodized aluminum instead of PVC plastic, which greatly contributes to its durability and great looks. The coupler that holds the two lightsabers together is flush with the rest of the hilt for an excellent, streamlined feel. The overall width has been reduced from its predecessor for a better grip, and the pommels that come with the staff are threaded for easy battery access. The Phantom Initiate V2 comes standard with two 24 inch Ultra blades.
The Phantom Initiate V2 can be wielded as a combined staff, but will also come with two individual pommels so it can be separated into the two Dark Initiate v2 lightsabers for dual wielding.
Like the Dark Initiate v2, the Phantom Initiate V2 is also available in the Limited Edition (LE) versions, detailed with silver rings to accent the hilt.