Availability: LEAD TIME - Allow 1 to 3 Business Days for Fabrication
Questions? Call 832-596-9003 or Click Here for How to Buy
SPECIFICATIONS
All Aircraft Grade Aluminum Construction
Length (Put Together With A Coupler): 24.25"
Length (Individually): 12.375"
Width: 1.25"
Removable Pommels
Polycarbonate Blades
CREE XP-E2 or LED Engin High Powered LED
Featured Videos
Ultra Sabers Phantom V2
Ultrasabers Phantom V2 Review
UltraSabers Phantom V2 LE/Dominix V2 LE Review
Description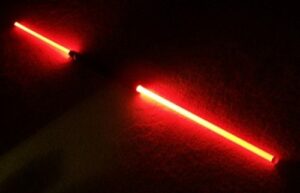 What do you get when you combine two Dominix Battle Sabers together? A Phantom V2 Lightsaber.
This is the new and greatly improved Ultrasaber's Phantom V2. The Phantom has always been a staff made from two Dominix lightsabers, so with the release of the Dominix V2 comes the Phantom V2. This staff is vastly superior to it's predecessor in many ways. First and foremost, it's made from black anodized aluminum instead of PVC plastic, which greatly contributes to its durability and great looks. The coupler that holds the two lightsabers together is flush with the rest of the hilt for excellent feel. The overall width is reduced for better grip, and the pommels that come with the staff are threaded for easy battery access.
The Phantom can be used as a staff or you can separate it into two individual lightsabers. It also comes with a coupler to make the staff and two pommels to make individual lightsabers.
The Phantom is also available in an RGB version allowing you to make 7 colors by just pressing the buttons on the hilt. There are no drawbacks to this color changing system, each color is just as bright as a single colored hilt.