Light Saber
If you're not necessarily a Star Wars fan yourself, you may not even realize what a light saber is and why it's so special to such a fan. However, for those who are familiar with the franchise and for those who are shopping for a gift for someone that loves the movies, there's no denying that they're a "must have" for the real collector.
For someone unfamiliar with the item, a light saber is a type of sword that was used in the movies, but rather than having a steel blade it had a beam of light or laser that could extend from the handle. Certain characters in the movie would use them; they weren't for everyone. The beam of light or laser from the light saber was also a different color for many of the characters, meaning that if you're shopping for a true collector or true fan of the movie, you may want to consider if he or she has a favorite character before making a purchase.
For very young children, a light saber may be a plastic toy that does resemble a sword. You may even find ones made of foam; this may be the safest option for them, if they're likely to use it in their play fights. For older children, you have a wide variety of toys and they have varying levels of safety. Before you purchase a light saber for a child you know will want to use it and play with it, note the age group advertised on the package.
For collectors, there is also a number of light sabers and items you can purchase and again, in a wide range of features and a wide range of prices. Some have internal elements that cause them to light up so that they resemble the actual item used in the movie. These are typically not meant to be used or played with as the light elements can break very easily. Many light saberare collectibles that are meant to simply be displayed more than anything else.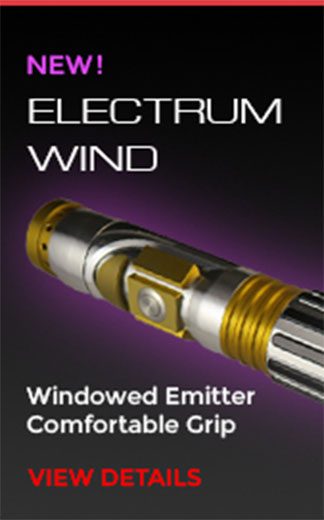 Keep in mind the recipient and their interest in these items. Again, different characters would use a light saber of a different color and the handle itself would be different as well. Does the recipient have a certain character they admire? Do you know if they enjoy the original three movies or the more recent movies? This will tell you as well the light saber that may be the better purchase for them.
You need to also consider your own budget before you shop for a light saber. Collectibles can be very expensive and you can wind up paying literally hundreds and hundreds of dollars for one that is mint condition and that is a limited edition. Consider the recipient when thinking of your budget for a light saber and be prepared to stick to it, as you don't want to get tempted to get something you really can't afford.
More Glossary Terms
A FX lightsaber is a lightsaber which has been offers a high quality replica of the lightsabers features in the Star Wars movies, comics, and animated features.
FX lightsabers have been made popular in mainstream culture thanks to the Star Wars movies, cartoons, and comics.
If you're not necessarily a Star Wars fan yourself, you may not even realize what a light saber is and why it's so special to such a fan.
Kids young and old appreciate toys as gifts, and true fans of the Star Wars movie franchise will appreciate light sabers of any size and with any number of details.
Fans of the Star Wars universe can find lightsabers for sale from a variety of places including retail stores, conventions and online.
Real lightsabers are replicas which mimic every detail of the versions of lightsabers used in the Star Wars universe. Lightsabers consist of a hilt and plasma beam.