Grand Master LE Lightsaber
Grand Master LE Full View
Grand Master LE Windowed Emitter
Grand Master LE Windowed Emitter Ignited
Grand Master LE Front Etching & Activation Box
Grand Master LE Rear Etching & Covertec Wheel
Grand Master LE Double Bladed Staff (Each Grand Master Saber and Coupler Sold Separately)
The Grand Master - All 4 Finishes (From left to right: Crimson Grand Master, Grand Master LE, Azure Grand Master, and Grand Master
CHOOSE YOUR CONFIGURATION METHOD BELOW
Availability: LEAD TIME - Allow 1 to 3 Business Days for Fabrication
Questions? Call 832-596-9003 or Click Here for How to Buy
SPECIFICATIONS
All Aircraft Grade Aluminum Construction
Length: 13"
Width: 1.6"
Removable Pommel (MHS Compatible)
Polycarbonate Blade
CREE XP-E2 or LED Engin High Powered LED
Featured Videos
Ultrasabers Grand Master
Description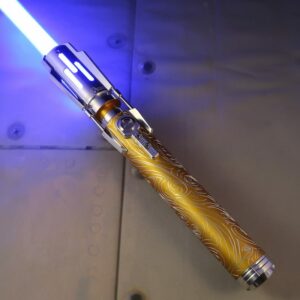 Ultrasabers is proud to present: The Grand Master LE
We've been looking forward to this for quite some time, and based on the number of requests we received for it, so have a good number of you.
Veterans of the old days will recognize the inspiration for this saber as coming from the legends of a Grand Master.  This saber is crafted and balanced to be wielded as a powerful single bladed saber, but is equipped with an MHS compatible pommel, allowing you to wield the saber in its true double-bladed legacy.
This saber features one of the most unique designs in the arsenal.  Nine staggered, vertical windows wrap around an elegant emitter, that is tri-sected by a distinctive set of pins securely attaching it to the hilt.  The Grand Master LE features a gorgeous engraving pattern that fully wraps around the saber's hilt that is like no other saber in the Ultrasabers lineup.
The Grand Master LE comes completely assembled and ready to go. The pommel is removable and compatible with MHS parts.
The Grand Master is available in four colors: The Grand Master LE comes in the gold you see here for a truly regal look, our Crimson Grand Master has been anodized our menacing red, the Grand Master is anodized the classic black and silver, and the Azure Grand Master is available in our bold blue .
Again, each Grand Master is sold separately, but is designed for fearsome double-bladed combat.  And of course we've added the Ultrasabers touch to its design, making it perfect for one and two handed combat; single or dual wielded.