XenoPixel Fulcrum - Ignited
XenoPixel Fulcrum - Color Changing Blades
XenoPixel Fulcrum Full Hilt
XenoPixel Fulcrum - Main Blade Feature
Availability: LEAD TIME - Allow 1 to 3 Business Days for Fabrication
Questions? Call 832-596-9003 or Click Here for How to Buy
SPECIFICATIONS
XenoPixel Fulcrum main hand hilt:
11.75" length
1.13" width
1.11 lbs
Description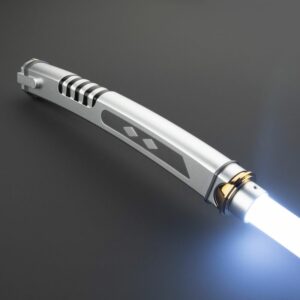 Ultrasabers is thrilled to announce the addition of the Xenopixel Fulcrum, a pre-constructed Fulcrum saber. This brings a long-requested addition to the arsenal!
This saber comes standard with a removable 36" Xenopixel blade that can be adjusted to any color you choose at any time, in-hilt recharge port that is found by removing the paneling along the profile of the hilt, and will ship with the following:
– 36" Xenopixel polycarbonate blade, 7/8″ diameter
– Pixel Blade Plug
– SD Card Reader
– Charging Cable
– Saber Stand
– Toolkit
– Screwdriver
– Instruction Manual
The Xenopixel Fulcrum have been fully anodized in a greyscale and silver pattern for a sleek look that complements the black and brass accents across the emitter and ignition switch. The Xeno Fulcrum will come with full control of the color of your blade, 34 on-board sound fonts, smooth swing, and more.
The Xenopixel Fulcrum is the main hand saber (Longer saber) and is designed to be wielded as dual sabers, but this saber is a comfortable width and length that it can be wielded independently for fierce, fast combat.
The Xenopixel Fulcrum main hand hilt measures 11.75″ in length and 1.13″ in width.
The Xenopixel Fulcrum is NOT manufactured by Ultrasabers. The Xenopixel Fulcrum is fully covered under our warranty, eligible for all of our promotions, and of course gets the full Ultrasabers experience for customer service and fulfillment.
This saber is in stock and will ship immediately. The Xenopixel Lost Gray Available separately!