XenoPixel Emperor - Ignited
XenoPixel Emperor - Color Changing Blade
XenoPixel Emperor - Emitter
XenoPixel Emperor - Pommel
XenoPixel Emperor - Full View
XenoPixel Emperor - Top View
Availability: LEAD TIME - Allow 1 to 3 Business Days for Fabrication
Questions? Call 832-596-9003 or Click Here for How to Buy
SPECIFICATIONS
The XenoPixel Emperor measures:
8.25" in Length
1.5" in Diameter
0.86 lbs
Description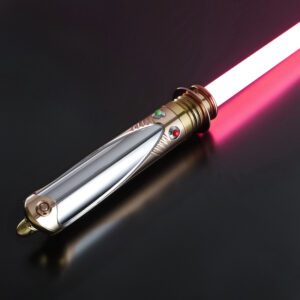 Ultrasabers is thrilled to announce the addition of the "XenoPixel Emperor"!  A pre-constructed XenoPixel saber.  This saber brings a long-requested addition to the arsenal, and we're excited to find a partner to bring it to you on a basis.
This saber comes standard with a removable 36" polycarbonate XenoPixel blade that can be adjusted on the fly to any color you choose, a battery chassis and electronics board easily accessible via the saber's pommel, and will ship with the following:
– A 36" polycarbonate XenoPixel blade, 7/8″ diameter
– Pixel Blade Plug
– SD Card Reader
– Charging Cable
– Saber Stand
– Toolkit
– Screwdriver
– Instruction Manual
The XenoPixel Emperor measures 8.25″ in length and 1.5″ in diameter- it is a perfect one-handed saber for fast paced flourishes and quick combat.
The XenoPixel Emperor features a beautifully polished copper shroud over a polished aluminum hilt and is decorated from top to bottom with detail. Machined grooves give your hand fantastic reference for placement as you wield your weapon against those who would leave you scarred and deformed.  A flanged, brass emitter adorns the top of this saber, its choke point, and pommel, giving the XenoPixel Emperor a distinct, majestic look.
The XenoPixel Emperor is NOT manufactured by Ultrasabers, but we're very excited to offer it. It is fully covered under our warranty, eligible for all of our promotions, and of course get the full Ultrasabers experience for customer service and fulfillment.
This saber is in stock and will ship immediately.