XenoPixel Empress Staff - Ignited
XenoPixel Empress Staff - Off - Collapsed
XenoPixel Empress Staff - Color changing blades
XenoPixel Empress Staff - Color changing blades
XenoPixel Empress Staff- Coupler
XenoPixel Empress Staff - Collapsed
XenoPixel Empress - Staff Mode
The XenoPixel Empress Staff- Full View
Availability: LEAD TIME - Allow 1 to 3 Business Days for Fabrication
Questions? Call 832-596-9003 or Click Here for How to Buy
SPECIFICATIONS
XenoPixel Empress measures:
28.1" length when converted to staff-mode
Description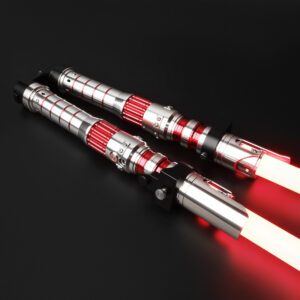 Ultrasabers is thrilled to announce the addition of the "XenoPixel Empress Staff"!  A collapsible, double bladed, pre-constructed saber staff.  This set brings a long-requested addition to the arsenal, and we're excited to bring it you.
These sabers come equipped with a removable 36" polycarbonate XenoPixel blade, in-hilt recharge ports that are found by removing the paneling along the profile of the hilt, and will ship with the following:
– A 36" polycarbonate XenoPixel blade, 1″ diameter
– Pixel Blade Plug
– SD Card Reader
– Charging Cable
– Saber Stand
– Toolkit
– Screwdriver
– Instruction Manual
We've made double bladed lightsabers before, but the XenoPixel Empress Staff takes it to a whole new level..! This is one of the most unique designs we've ever seen. The XenoPixel Empress Staff is two comfortably balanced, full-sized sabers that sit parallel, joined by an adjustable hinge-coupler that allows the sabers to swing open into a full-sized staff! The beautiful, machined aluminum has been polished to a brilliant shine, and features bands of a fierce red anodizing across both hilts. The twin hooded emitters are positioned to be facing one another, and are decorated with windows on each side, giving an added sinister look.
The XenoPixel Empress Staff measures at 28.1 inches when fully extended.
The XenoPixel Empress Staff is NOT manufactured by Ultrasabers, but we're very excited to offer it.  They are fully covered under our warranty, eligible for all of our promotions, and of course get the full Ultrasabers experience for customer service and fulfillment.  Please note, the XenoPixel Empress Staff sabers are not meant to be removed from their hinge and intentionally doing so will be considered a modification and will void any warranty.
These sabers are in stock and will ship immediately.