Dark Prophecy V3 Lightsaber
Here is a picture of the Dark Initiate v3 with some of our MHS compatible pommels for the Dark Liberator v3. From left to right: Catalyst, Dark Catalyst, Bellicose Long Grooves, Raven SS, Raven Plain, Dark Warglaive 2, Dark Warglaive, Arbiter, Archon, Consular pommels.
The Dark Prophecy v3 Ignited
CHOOSE YOUR CONFIGURATION METHOD BELOW
Availability: LEAD TIME - Allow 1 to 3 Business Days for Fabrication
Questions? Call 832-596-9003 or Click Here for How to Buy
SPECIFICATIONS
All Aircraft Grade Aluminum Construction
Length: 11"
Width: 1.45"
Removable Pommel (MHS Compatible)
Polycarbonate Blade
CREE XP-E2 or LED Engin High Powered LED
Featured Videos
Ultrasabers Prophecy v3 & Dark Prophecy v3
Ultrasabers Prophecy v3 in Arctic Blue Review
Review on Lightsaber - Ultrasabers Prophecy V3
Review of the Ultrasabers Prophecy v3 in VA/AS
Ultrasabers Prophecy V3
Description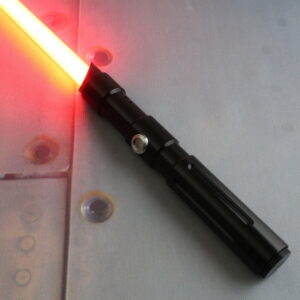 Ultrasabers is proud to present: THE DARK PROPHECY
Prophecy: a revelation of divine will.
This is the lightsaber of choice for those who wish to fulfill their destiny and shape the rest of the galaxy… in light or shadow…
The Dark version of the Prophecy is 100% black anodized.
The Dark Prophecy is a premium stunt saber masterfully crafted from aircraft grade aluminum. It comes complete with full sized blade, brass retainers, threaded MHS compatible pommel, and a custom machined aluminum covertec wheel specifically created for this saber. The grips were designed for excellent tactile feedback and control. The switch is guarded and recessed into the hilt for optimum performance and durability. And of course, since this is a V3 this saber is now sound capable!
The original Prophecy is 10.5″ long and the Dark Prophecy v3 is 11″ long, both have the exact same width 1.45″ at their widest points. So you still get the same look and feel of the original Prophecy with these great new features.
The saber comes completely assembled and ready to go. The pommel is MHS (Modular Hilt System) Compatible, meaning it is removable and interchangeable with other MHS compatible parts. The Dark Prophecy v3 is also available with our Obsidian Soundboard. These are both exciting new additions to our Prophecy v3 saber.