Spectre Full Shot No Engraving
Spectre Full Shot with Engraving
Spectre Square Activation Box
Spectre Angled Activation Box
Spectre - Emitter No Windows
Spectre Emitter with Windows
Spectre - Emitter No Covertec Option
Spectre - Emitter WITH Covertec Option
Spectre Pommel with D-Ring
Spectre Body NO Engraving
Spectre Body with Engraving
Spectre Rear with Windows
CHOOSE YOUR CONFIGURATION METHOD BELOW
Availability: LEAD TIME - Allow 1 to 3 Business Days for Fabrication
Questions? Call 832-596-9003 or Click Here for How to Buy
SPECIFICATIONS
All Aircraft Grade Aluminum Construction
Length: 13.5"
Width: 1.5"
Guard Diameter: 2.875"
Removable Pommel (MHS Compatible)
Removable Emitter (MHS Compatible)
Polycarbonate Blade
CREE XP-E2 or LED Engin High Powered LED
Powered by 4 AAA batteries or 2x Li-Ion Batteries
Featured Videos
Ultrasabers Spectre
Ultrasabers Spectre Review
Description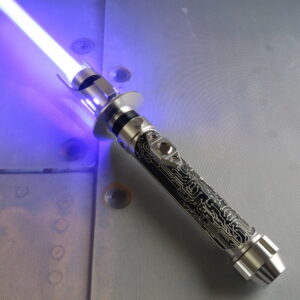 Ultrasabers is proud to present: Spectre
We're extremely excited to present this one to you guys- it has immediately become one of our favorite lightsabers in the arsenal, and we're sure you'll agree.
Top to bottom, this lightsaber is packed with features that we've been itching to outfit a single saber with for a long time.
Say hello to one of the most beautiful emitters we've ever crowned an Ultrasaber with. The Spectre's emitter rests atop the first rounded guard we've ever featured and is available with or without the beautiful wrap-around vertical windows for a look of pure elegance.
The emitter's features don't stop there. The Spectre is the first Ultrasaber that can be worn in two parts. We've designed the Spectre to accommodate a covertec wheel in the emitter so that it can hang from your belt independently of the hilt. If you recognize this lightsaber from it's inspired source, you'll understand why we're so excited to be able to offer this feature, and why we worked so hard to make sure it was included.
You've undoubtedly already noticed the body of the Spectre. You all asked us to bring more lightsabers with etching to the lineup, and we weren't about to hesitate to give you all what you ask for. The Spectre has been given the full-pattern treatment, with an intricate circuit board look that's sure to turn some heads. For you purists out there: we haven't forgotten about you! The Spectre's body is available in a classic black anodized finish for that clean tuxedo look that you know and love from Ultrasabers. Finally, The Spectre comes standard with a covertec wheel that rests centered on the back of the shroud above the pommel.
You Ultrasabers veterans know that our features and options don't stop there! We got such great feedback from all of you when we released our square and angled activation boxes, so we especially wanted to bring them back for The Spectre's hilt to really complete the saber's look.
And last, but definitely not least, we've capped off the Spectre with a great new pommel that really gives it the perfect balance you know we prioritize in a lightsaber crafted for expert combat. The Spectre's pommel features four cardinal direction ridges that alternate with the position of the sound vents and really compliment the vertical etching that runs the length of the shroud. The Spectre's pommel has been designed to accommodate a D-Ring for another option to be worn for cosplay (or any other night on the town).
The Spectre comes completely assembled and ready to go. The emitter and pommel are removable and compatible with MHS parts.