Crimson Savior Lightsaber
Crimson Savior Wide No Windows
Crimson Savior Wide With Windows
Crimson Savior No Windows Illuminated
Crimson Savior With Windows Illuminated
All Four Saviors (Sold Separately)
The Crimson Savior Ignited
CHOOSE YOUR CONFIGURATION METHOD BELOW
Availability: LEAD TIME - Allow 1 to 3 Business Days for Fabrication
Questions? Call 832-596-9003 or Click Here for How to Buy
SPECIFICATIONS
All Aircraft Grade Aluminum Construction
Hilt Length: 12.75"
Width: 1.5"
Removable Pommel (MHS Compatible)
Removable Emitter (MHS Compatible)
Polycarbonate Blade
CREE XP-E2 or LED Engin High Powered LED
Featured Videos
Ultrasabers Butcher & Savior
Description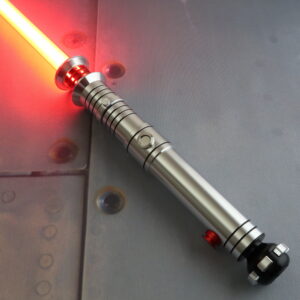 Ultrasabers is proud to present: The Crimson Savior
It has been a long, long time coming, but they've finally arrived! Say hello to part of our latest saber-duo, Butcher & Savior!
The Crimson Savior is a lightsaber we've been looking to add to the arsenal for quite some time and is one of the most requested designs we've been working towards. We're extremely proud to be presenting this one to you guys.
The Crimson Savior spares the etching and fearsome claws of its sister-saber in favor of a clean, pure presentation- yet conceals so many features behind an elegantly simple silhouette. If you believe in finding elegance in simplicity, then this will be the crown jewel of your collection.
The Crimson Savior immediately commands attention with its boldly colored emitter that rests perfectly atop the slender silver hilt. The Crimson Savior's emitter comes standard in the classic solid style of the Dark Lord who inspired it but is also available with a series pinhole windows that run vertically along the groves of the colored section, giving the lightsaber an all-new look when accented by your ignited blade. The Crimson Savior's emitter is MHS Compatible and is available in four different colors.
Shallow black anodized groves ring the Crimson Savior's hilt above the activation switch, giving it a classic pinstripe look that is complemented by the clean contrast of the lower half of the hilt. The upper and lower sections of the hilt are designed for a comfortable grip as a main or offhand weapon. A covertec wheel comes standard on all Crimson Saviors and is anodized to match the emitter.
The Crimson Savior's design is balanced perfectly in weight and appearance by the black anodized turreted pommel that caps the lightsaber off. The pommel is very reminiscent to that of the Guardian or the Scorpion, but is much slimmer, making it a perfect fit for a number of other lightsabers in the arsenal.
The Crimson Savior's emitter & covertec wheel are anodized in a menacing red but are available in three other colors. The Dark Savior features a black anodized emitter & covertec wheel, the Savior will feature the classic regal Gold anodized emitter & covertec wheel, and the Azure Savior will come with a bold blue anodized emitter & covertec wheel. Please note that only the color of the emitter and covertec wheel change between each version of the Savior, and that the silver hilt and black anodized groves are standard on every version.
The Crimson Savior will come completely assembled and ready to go. The emitter and pommel are both removable and compatible with TCSS MHS parts.
Again, Butcher and Savior are sold separately, but are designed to be dual wielded as a pair, and perfectly complement one another as primary and secondary weapons. Of course, we've added the Ultrasabers touch to both designs, making them perfect for one and two-handed combat.