Dark Initiate v4 Lightsaber
Dark Initiate v4 Illuminated Windows
Dark Initiate v4 with Windows
Dark Initiate v4 without Windows
Dark Initiate v4 Emitter with Windows
Dark Initiate v4 Emitter without Windows
Here is a picture with some of our MHS compatible pommels (from left to right: Warglaive, Raven Normal, Bellicose Short Groove, Guardian, Catalyst, Dark Catalyst, Scorpion, Raven SS, Consular, Dark Warglaive pommels)
The Dark Initiate v4 Ignited
The Dark Initiate v4 From UltraSabers.com
The Dark Initiate v4 Ignited
CHOOSE YOUR CONFIGURATION METHOD BELOW
Availability: LEAD TIME - Allow 1 to 3 Business Days for Fabrication
Questions? Call 832-596-9003 or Click Here for How to Buy
SPECIFICATIONS
All Aircraft Grade Aluminum Construction
Length: 9.875"
Width: 1.45"
Removable Pommel (MHS Compatible)
Polycarbonate Blade
CREE XP-E2 or LED Engin High Powered LED
Featured Videos
Ultrasabers V4 Line of Hilts
Initiate v4 ultrasabers review
Description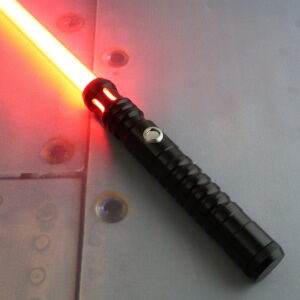 Ultrasabers is proud to present: THE DARK INITIATE V4
The new Dark Initiate v4 is made from black anodized machined aluminum just like the v2 and v3 and this version is able to accommodate sound installs, and has an MHS compatible pommel.
This is a great saber for younglings and adults alike. The chokepoints on this hilt make it great for one-hand and two-handed combat. This saber can be used as the main hand or off-hand lightsaber. The Dark Initiate v4 comes standard with a 24″ Initiate blade and the blade can be upgraded to 32″ or 36″.
The Dark Initiate v2 is 1.25″ wide and 9″ long, and the Dark Initiate v3 is 1.45″ wide and 9.5″ long, while the Dark Initiate v4 is 1.45″ wide and 9.875″ long. So you get the same size and feel of a Dark Initiate with some new great features.
The lightsaber comes completely assembled and ready to go. The pommel is removable and compatible with TCSS MHS parts.