The Dark Omen Emitter Cat's Head Disk
The Dark Omen Emitter Cat's-Eye Disk
CHOOSE YOUR CONFIGURATION METHOD BELOW
Availability: LEAD TIME - Allow 1 to 3 Business Days for Fabrication
Questions? Call 832-596-9003 or Click Here for How to Buy
SPECIFICATIONS
All Aircraft Grade Aluminum Construction
Length: 14.75"
Hilt Width: 1.5"
Guard Width: 8"
Removable Pommel (MHS Compatible)
Removable Emitter (MHS Compatible)
Polycarbonate Blade
CREE XP-E2 or LED Engin High Powered LED
Featured Videos
Ultrasabers Omen
Ultrasabers Omen review and dis-assembly video part 1
Ultrasabers Azure Omen with Adegan Silver blade review! Thundercats ho!!!
Description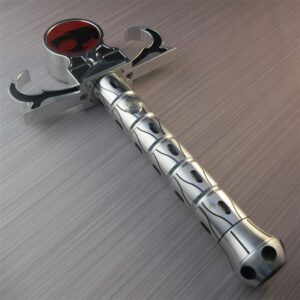 Ultrasabers is proud to present: THE DARK OMEN
This is one of the most extravagant Ultrasabers released to date! Everything from the streamlined pommel, to the sleek body, to the amazing emitter stands out with this saber.
The Dark Omen's body is sleek and very comfortable in your hands, and features a very intricate design all the way down the body, flowing into a streamlined pommel which has a design of its own. The entire saber is gorgeous.
And then to set the entire saber off is the amazing emitter. The design and machining job on the emitter is absolutely awesome. The claws are firm and secure and provide a very unique looks to the entire saber with how they are mounted. The emitter comes with a front and a back disc that act as huge red color filters allowing light to pass through them for added flare. You can also get these discs with the cat design, eye design, or blank to match your taste. NO ONE is going to overlook you with this bad boy hanging from your belt or being wielded in your hands. This saber stands out and will gain all the attention it deserves.
This saber is built with high quality T6 aircraft aluminum. It will stand up to rigorous use time and again. The saber is 14.75″ long from the top of the emitter to the base of the pommel. The body of the saber is 1.5″ wide, and the emitter measuring 8″ wide from claw edge to claw edge. The blade sits 4.75″ deep in the emitter when attached. The pommel and the emitter are both TCSS MHS (Modular Hilt System) Compatible, meaning they are removable and interchangeable with other MHS parts.