The Empress LE Full Shot With Engraving
Empress LE Ignited - With Engraving
The Empress LE - With Engraving
The Empress LE Emitter Windows
The Empress - All 4 Models (Left to right: Empress LE, Empress, Azure Empress, Crimson Empress)
CHOOSE YOUR CONFIGURATION METHOD BELOW
Availability: OUT OF STOCK - ON BACK ORDER - Ships in 4 to 20 WEEKS
Questions? Call 832-596-9003 or Click Here for How to Buy
SPECIFICATIONS
All Aircraft Grade Aluminum Construction
Length: 11"
Width: 1.5"
Removable Pommel (MHS Compatible)
Removable Emitter
Polycarbonate Blade
CREE XP-E2 or LED Engin High Powered LED
Featured Videos
Ultrasabers Empress
Description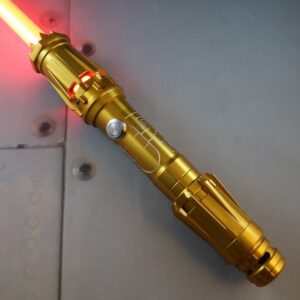 Ultrasabers is extremely proud to present:  The Empress LE.
We've been hard at work with this one, and we're are beyond thrilled to finally be able to bring it to you guys.  Designed from the ground up with the next generation of Masters and Padawans in mind, we've gilded this saber with some of the most unique features to ever grace the lineup!
The first thing you'll notice about the Empress LE is the fearsome halo of eight claws that wreathe its blade socket, each one flowing down into the main hilt with a corresponding extension, reinforcing the structure of the saber.  All of this shrouds the Empress LE's 360° windowed emitter that rings the saber, glowing brightly beneath each claw.
The body of the Empress LE is available with OR without the decorative circuit board etchings.  The etchings run completely around the hilt in an asymmetrical pattern, but neatly come together in an orderly shape to really highlight the AV switch that comes standard on each Empress.  The body measures at a 1.5″ width, and functions as a comfortable choke-point of the saber, giving you a perfect grip for spins and fast paced combat.  The lower portion of the hilt is designed to mirror the claw extension of the proceeding emitter, and really sets off the saber's look.
We've designed the pommel of the Empress to give the saber a perfect balance; both in looks and in weight, but didn't stop there!  The Empress' pommel is built to amplify the sounds on your soundboards, should you elect to equip one to your saber (which we obviously recommend).  The pommel is MHS Compatible, meaning that it can be removed and swapped with any other Pommel from a saber in the Ultrasabers lineup.
The Empress LE is available in our four standard colors: the brilliant gold you see here, the standard Empress will come anodized in our classic black, our Azure Empress will come anodized in our bold blue, and the Crimson Empress will be anodized in our menacing red.