Wide Shot of Azure Butcher with No Windows Ignited
Azure Butcher with Windows Wide Shot
Custom Lightsaber Azure Butcher with No Windows and Emitter Up
Custom Lightsaber Azure Butcher with Windows and Emitter Up
Custom Lightsaber Azure Butcher with No Windows and Emitter Up Ignited
Azure Butcher with Windows and Emitter Up Ignited Custom Lightsaber
Azure Butcher Pommel for Custom Lightsaber
Four Butcher LE Custom Lightsabers (Sold Separately)
The Azure Butcher Ignited
CHOOSE YOUR CONFIGURATION METHOD BELOW
Availability: LEAD TIME - Allow 1 to 3 Business Days for Fabrication
Questions? Call 832-596-9003 or Click Here for How to Buy
SPECIFICATIONS
All Aircraft Grade Aluminum Construction
Length: 13"
Width: 1.6"
Removable Pommel (MHS Compatible)
Polycarbonate Blade
CREE XP-E2 or LED Engin High Powered LED
Featured Videos
Ultrasabers Butcher & Savior
Description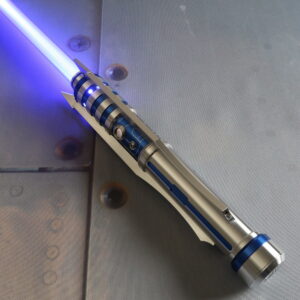 Ultrasabers is proud to present: The Azure Butcher
It has been a long, long time coming. But they've finally arrived… Say hello to our latest saber-duo, Butcher & Savior!
Saber enthusiasts will recognize the Azure Butcher's design right away! Inspired by the Dark Lord himself and brought to life with the Ultrasabers eye for heavy combat & durability, the Azure Butcher has been designed to function as a menacing main-hand weapon for dual wielding with its sister-saber: The Savior, or as a fearsome standalone blade for single lightsaber combat.
The Azure Butcher features a truly unique design that is sure to turn heads, and is packed with awesome features everywhere you look! First and most obviously of which are the three awesome claws that run from the peak of the emitter down to the pommel of the lightsaber. We've made sure that these claws are securely fastened to the hilt and are spaced evenly for a comfortable grip while dueling with a one or two-handed grip.
For those of you that like a bit of flair, The Azure Butcher is available with a series of pin-hole windows that encircle the emitter in the second anodized stripe, and absolutely bring the lightsaber to life with a burst of elegance when the lightsaber is ignited. Those of you wielding a Liberator or are familiar with its emitter will recognize the pattern and the touch it adds to the lightsaber.
The Azure Butcher's control section might be one of our favorite features on an Ultrasaber yet- Every Azure Butcher features a precisely machined pattern engraved around the switch section, wrapping all the way around the hilt and adding a unique bit of detail to the AV Switch, recharge port, and a decorative button screw.
Finally- the Pommel. We've added some excellent pommels to the arsenal recently, and this one is no exception! The Azure Butcher's pommel adds a perfect weight that balances the lightsaber and is beautifully vented for sound
The Azure Butcher will come completely assembled and ready to go. The pommel is removable and compatible with MHS parts.
The Butcher is available in four colors: the Azure Butcher has been anodized our bold blue as you see here, the Butcher comes in the classic black and silver, the Crimson Butcher is anodized our menacing red, and the Butcher LE is available in gold for a truly regal look.
Again, Azure Butcher and Savior are sold separately, but are designed to be dual wielded as a pair, and perfectly complement one another as primary and secondary weapons. Of course, we've added the Ultrasabers touch to both designs, making them perfect for one and two-handed combat.