The Azure Mantis Full View
Azure Mantis Emitter With Claws
The Azure Mantis Emitter Without Claws
The Azure Mantis Pommel Spiked Pommel
The Azure Mantis Pommel Squared Pommel
The Azure Mantis Claws & Spiked Pommel
The Azure Mantis With Claws & Squared Pommel
The Azure Mantis Without Claws & Squared Pommel
The Azure Mantis Disassembled
The Azure Mantis Windowed Emitter
The Azure Mantis From UltraSabers.com
CHOOSE YOUR CONFIGURATION METHOD BELOW
Availability: LEAD TIME - Allow 1 to 3 Business Days for Fabrication
Questions? Call 832-596-9003 or Click Here for How to Buy
SPECIFICATIONS
All Aircraft Grade Aluminum Construction
Length Without Claws: 14.25"
Length With Claws: 17"
Width: 1.7"
Removable Pommel (MHS Compatible)
Removable Emitter (MHS Compatible)
Polycarbonate Blade
CREE XP-E2 or LED Engin High Powered LED
Featured Videos
Ultrasabers Mantis
Ultrasabers Mantis CE Review
Description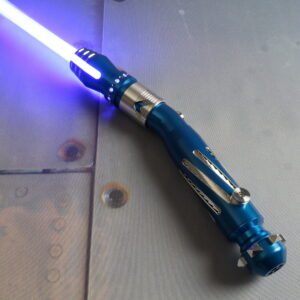 Ultrasabers is proud to present: THE AZURE MANTIS
This is the first curved Ultrasaber made of T6 Aircraft Aluminum and it is absolutely awesome. Some sabers have one standout feature, either the emitter looks great, or the pommel looks great, or the body has great detail. The Azure Mantis however, is a saber that has standout features from top to bottom.
The emitter on the Azure Mantis is just jaw dropping. The size, shape, and detail all go together so well. The three cut out slots accent the blade perfectly and the 10 small windows give that extra flare to the emitter every time you ignite the blade. And the option to get the emitter with or without the claws gives you the choice to make your Azure Mantis Lightsaber menacing or elegant at any given time. The High Polished shroud below the emitter is yet another standout feature on the Azure Mantis and provides a smooth and stylish transition to the curve in the hilt.
The body of the saber offers even more eye candy with the High Polished ribbed under body tailored with a blue anodized shroud to create a style unique to the Azure Mantis. And who could forget the classic premium pommel style. This pommel style is beloved by Ultrasabers fans everywhere and it goes perfectly with the Azure Mantis with blue anodizing.
This saber is built with the highest quality T6 Aircraft grade aluminum. It will stand up to rigorous use time and again. The materials used to forge this lightsaber are second to none. Aircraft grade aluminum and CNC machined precision goes into the creation of every saber in the Ultrasaber line.
This saber comes standard with a covertec wheel installed.
The Azure Mantis comes completely assembled and ready to go. This is a six piece saber (emitter, neck shroud, elbow, body, body shroud and pommel) and the emitter, elbow, body, and pommel are all TCSS MHS (Modular Hilt System) Compatible, meaning they are removable and interchangeable with other MHS parts. In addition the shroud and emitter claws are removable. This saber is 14.25″ long from emitter to pommel and 1.7″ wide at the body. This saber is 17″ long from claw to pommel with the claws equipped.