Crimson Dominicide Lightsaber
Crimson Dominicide Ignited
Crimson Dominicide From Ultrasabers.com
Top to bottom: Dominicide, Azure Dominicide, Crimson Dominicide, Dominicide LE
CHOOSE YOUR CONFIGURATION METHOD BELOW
Availability: LEAD TIME - Allow 1 to 3 Business Days for Fabrication
Questions? Call 832-596-9003 or Click Here for How to Buy
SPECIFICATIONS
All Aircraft Grade Aluminum Construction
Length: 20.5"
Width: 1.6"
Removable Emitters (MHS Compatible)
Polycarbonate Blade
CREE XP-E2 or LED Engin High Powered LED
Featured Videos
Ultrasabers Dominicide
Description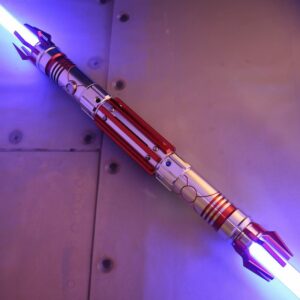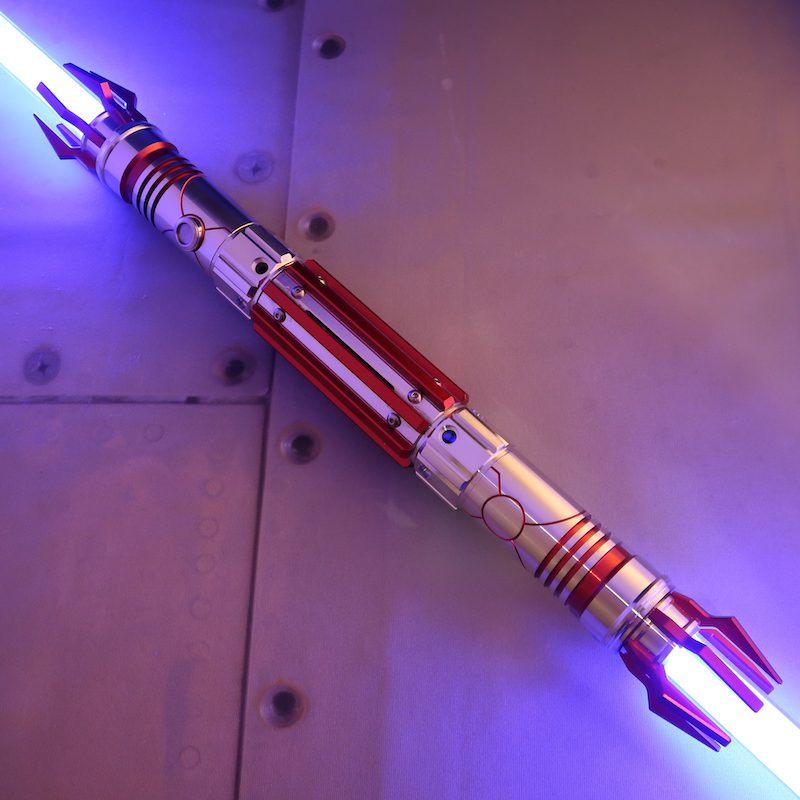 Double saber. Single unit.
Welcome an Ultrasaber, unlike any before it. We've been refining the design for this saber for some time now, and we're beyond excited to finally unleash it to the Ultrasabers Arsenal.  Say hello to the Crimson Dominicide.
The Dominicide is the first double-bladed lightsaber set within a single unit to grace the Ultrasabers line-up, and we've anodized its key features in our brilliant, menacing red color to bring you its sister saber, the Crimson Dominicide.  The saber features TWO MHS Compatible emitters wreathed in menacing claws, and a comfortable ridged grip that spans across its midsection.  Both sides of the hilt features beautifully integrated venting for sound, allowing for maximum resonation in every battle.  Batteries on each Dominicide are housed in a removable compartment within the midsection of the saber, allowing us to pack all of our favorite double-bladed features into the space of a single hilt. Each Dominicide will come standard equipped with a covertec wheel and a non-illuminated AV switch, settled opposite one another on the saber's hilt to let the saber hang comfortably from your belt.
The Dominicide measures in at:
17″ Emitter to emitter
20.5″ Claw to claw
78.25″ Tip to tip with two 32″ round tip blade equipped
The Dominicide is available in four distinct finishes that appear across its claws, engravings, grips across the midsection, and covertec wheel: the classic black and silver you see here, our Azure Dominicide comes anodized in our bold blue, the Crimson Dominicide comes anodized in our menacing red that you see here, and the Dominicide LE is anodized in a brilliant gold for a truly regal look.