Crimson Menace Lightsaber
Crimson Menace with AV Switch (only available on Sabers with Sound)
Crimson Menace with Regular Guarded Switch
Crimson Menace Emitter - Black with Windows
Crimson Menace Emitter - Black without Windows
Crimson Menace Emitter - Silver with Windows
Crimson Menace Emitter - Silver without Windows
Menace Knurled Screws - from Left to Right: Silver, Black, Red, Blue
All Menace Finishes (from Left to Right: CE, SE, Dark, Azure, Crimson)
Double Bladed Menace (second Menace and coupler NOT INCLUDED, must be purchased separately)
The Crimson Menace Ignited
The Crimson Menace from UltraSabers.com
The Crimson Menace Ignited
CHOOSE YOUR CONFIGURATION METHOD BELOW
Availability: LEAD TIME - Allow 1 to 3 Business Days for Fabrication
Questions? Call 832-596-9003 or Click Here for How to Buy
SPECIFICATIONS
All Aircraft Grade Aluminum Construction
Length Standard Body: 10.375"
Length Extended Body: 11.25"
Width: 1.5"
Removable Pommel (MHS Compatible)
Removable Emitter (MHS Compatible)
Polycarbonate Blade
CREE XP-E2 or LED Engin High Powered LED
Featured Videos
Ultrasabers Menace
Ultrasabers Crimson Menace unboxing and review.
Ultrasabers Dark Menace Unboxing!!
Ultrasabers Menace Overview.
My Azure Menace from Ultra Sabers!
Description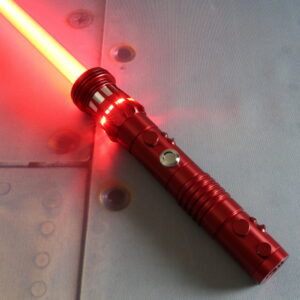 Ultrasabers is extremely excited to present: The CRIMSON MENACE.
Out of our custom light sabers, the Crimson Menace brings one of the most coveted and loved saber designs to the Ultrasabers lineup. This saber is combat ready and made entirely of T6 Aircraft Aluminum. The Menace is available in 5 different finishes: High Polish (SE), Black Anodize (Dark), Red Anodize (Crimson), Blue Anodize (Azure), and Nickel Plated Finish (CE). The emitter is also available in 4 different styles. You can get the emitter underlay in Silver or Black with the added option of adding Windows. In addition to that you can also stylize your red Menace Lightsaber by selecting the color of all 3 Knurled Screws on the Lightsaber hilt. The Menace is able to accommodate sound installs, and has a MHS compatible emitter & pommel as well.
The Crimson Menace comes standard with a Black Covertec wheel. This saber also comes standard with a 36″ blade, is 1.5″ wide at the grip, and 10.375″ long from the top of the emitter to the bottom of the pommel (11.250″ long with Recharge Port installs). The saber comes completely assembled and ready to go. The pommel and emitter are removable and compatible with MHS parts.