Standard Emitter Fallen LE Custom Lightsaber
Fallen LE Ignited Custom Lightsaber with Standard Emitter
Fallen LE Custom Lightsaber with Combat Ready Emitter
Fallen LE Emitter Custom Combat Ready Lightsaber Ignited
Fallen LE Standard Emitter Windows Custom Lightsaber
Combat Ready Emitter Windows on Fallen LE Custom Lightsaber
Fallen LE Custom Lightsaber Pommel
The Fallen Custom Lightsaber Collection
Full View of Fallen LE Custom Lightsaber with Standard Emitter
Fallen LE with Combat Ready Emitter Full View
CHOOSE YOUR CONFIGURATION METHOD BELOW
Availability: LEAD TIME - Allow 1 to 3 Business Days for Fabrication
Questions? Call 832-596-9003 or Click Here for How to Buy
SPECIFICATIONS
All Aircraft Grade Aluminum Construction
Length: 16.25"
Width: 1.5"
Removable Pommel (MHS Compatible)
Removable Emitter (MHS Compatible)
Polycarbonate Blade
CREE XP-E2 or LED Engin High Powered LED
Featured Videos
Ultrasabers Fallen
Description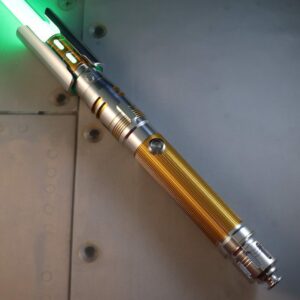 Ultrasabers is proud to present: The Fallen LE
From top to bottom, The Fallen LE is packed with features we love, and we're THRILLED to be able to offer it at such an affordable price point for such an awesome saber.
The first thing you'll notice about The Fallen LE is its twin fins that flank the emitter, and stylishly cover the anodized rings that wrap it.  On the exposed sides of the emitter rest twin vertical windows that give the saber an AWESOME look when it's ignited.  The Fallen LE emitter is available in two styles, a Combat Ready, and Standard.  We HIGHLY recommend the Combat Ready emitter for those of you who might find your saber being fiercely impacted by your opponent's own heavy grade blade.
We've machined the hilt of the Fallen LE to have one of the most comfortable grips that we've ever added to one of our sabers, and anodized it to give it a solid look in each of our four standard colors.  The simple machining across the hilt gives the Fallen LE a fantastic feeling in the hand and is perfect for single or two-handed combat.  Each Fallen will come standard with an AV switch, and covertec wheel.  The covertec wheel will be anodized to match the color of the hilt and etching on the rest of your saber.
Finally, the pommel really sets off this saber.  The Fallen LE sports a totally new and unique pommel, and has been designed as a resonance chamber to amplify the volume on your soundboards, should you elect to equip one to your saber (which we obviously recommend).
The Fallen LE ships completely assembled and ready for combat out of the box.  The emitter and pommel are MHS (Modular Hilt System) Compatible, meaning that they are removable and interchangeable with any other MHS compatible parts on any other saber in your collection.  The pommel of the Fallen LE will be available individually.