Flamberge v2 Ignited Close
The Flamberge v2 From UltraSabers.com
CHOOSE YOUR CONFIGURATION METHOD BELOW
Availability: LEAD TIME - Allow 1 to 3 Business Days for Fabrication
Questions? Call 832-596-9003 or Click Here for How to Buy
SPECIFICATIONS
All Aircraft Grade Aluminum Construction
Length: 14"
Hilt Width: 1.5"
Crossguard Width: 5.5"
Removable Pommel (MHS Compatible)
Removable Emitters (MHS Compatible)
Polycarbonate Blade
CREE XP-E2 or LED Engin High Powered LED
Featured Videos
Ultrasabers Flamberge
Description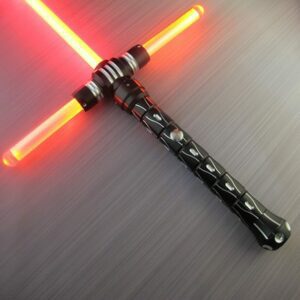 The new Flamberge v2 brings the highly requested crossguard style emitter to the Ultrasabers lineup. The Flamberge v2 is combat ready and made entire of T6 Aircraft Aluminum. The Flamberge v2 Lightsaber is black anodized with a silver machined design pattern. All 3 blade holders are MHS compatible and exchangeable with other MHS parts. The saber is able to accommodate sound or Diamond Controller installs, and also has a MHS compatible pommel.
This is a large saber, but it is surprisingly light weight for its size which makes it a great saber for younglings and adults alike. The length of the Flamberge v2's hilt make it great for two handed combat but its lighter weight make it possible for one handed combat with practice. The Flamberge v2 comes standard with a 40″ or 36″ Main blade. And also has the option for 6″ or 8″ blades for the crossguard.
Here are some numbers as measurements for our customers that like to analyze the numbers. The Flamberge v2 is 1.5″ wide at the grip and 14″ long from the top of the main emitter to the bottom of the pommel. It is 5.5″ wide from the end of the left emitter to the end of the right emitter (4.75″ without the emitters). The standard crossguard emitters add 0.375″ in height. With 6″ blades from left tip to right tip the saber is 16.5″ long. With 8" blades from tip to tip the saber is 20.5″ long. The Main blade holder has a 3.5″ deep blade socket. The left and right blade holders have 1″ blade sockets.
The Flamberge v2 comes completely assembled and ready to go. The pommel and emitters are removable and compatible with MHS parts.