The Manticore - Collector's Edition Full
The Manticore Pommel Options High Profile (Left), Low Profile (Right)
The Manticore CE Emitter in Blazing Red
The Manticore Pommel Options High Profile (Left), Low Profile (Right)
The Manticore - Collector's Edition Windowed Emitter
The Manticore CE Nickel Plated (Top) & The Manticore CE High Polished Silver (Bottom)
CHOOSE YOUR CONFIGURATION METHOD BELOW
Availability: LEAD TIME - Allow 1 to 3 Business Days for Fabrication
Questions? Call 832-596-9003 or Click Here for How to Buy
SPECIFICATIONS
All Aircraft Grade Aluminum Construction
Length With Low Profile Pommel: 11"
Length With High Profile Pommel: 12"
Width: 1.5"
Removable Pommel (MHS Compatible)
Removable Emitter (MHS Compatible)
Polycarbonate Blade
CREE XP-E2 or LED Engin High Powered LED
Featured Videos
Ultrasabers Manticore
Manticore CE Review for Ultrasabers
Manticore CE
Ultra Sabers Manticore with Violet Amethyst blade review!
Description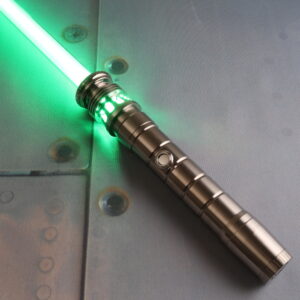 Ultrasabers is proud to present: The Manticore – Collector's Edition.
After spending years as a con-exclusive saber, the ever-elusive Manticore CE is finally available to everyone. At 11″ long and 1.5″ wide, this is a very streamlined saber.
The Ultrasabers Manticore CE is a 3-piece saber design featuring a highly pronounced flanged emitter with a gorgeous groove pattern, and 10 windows to let the light from the blade or blade plug shine through the emitter.
The emitter is absolutely gorgeous. It's very eye-catching with the saber off, but when your saber is illuminated it's simply jaw-dropping. This saber is built with our standard high-quality polished T6 aircraft aluminum. The saber body has been Nickel plated, and a subtle groove pattern has been machined on the grip of the hilt. The pommel of the Manticore Ultrasabers comes in two versions. One made to be very low profile, adding to the streamlined look; while the other is high profile, designed to give the Manticore CE some flare. The entire saber is 11″ assembled (12″ with a high-profile pommel) making it ideal for either two-hand or one-handed combat.
The Collector's Edition version comes in either a High Polish silver finish or a Nickel Plated finish. Both are STUNNING!
Ultrasabers Manticore CE comes completely assembled and ready to go. The emitter and pommel are TCSS MHS (Modular Hilt System) Compatible, meaning they are removable and interchangeable with other MHS parts.