Phantasm Initiate V3 Ignited
Phantasm Initiate V3 Separated
Phantasm Initiate LE V3 Separated
Phantasm Initiate LE V3 Ignited
Here is a picture of the Initiate v3 with some of our MHS compatible pommels for the Prophecy v3. From left to right: Catalyst, Dark Catalyst, Bellicose Long Grooves, Raven SS, Raven Plain, Dark Warglaive 2, Dark Warglaive, Arbiter, Archon, Consular pommels
Availability: LEAD TIME - Allow 1 to 3 Business Days for Fabrication
Questions? Call 832-596-9003 or Click Here for How to Buy
Featured Videos
Phantom and Phantasm Initiate v3
Ultrasabers Phantasm Initiate v3 review
Phantasm Initiate V3 Review
UltraSaber Review -Phantasm V3 initiate
Description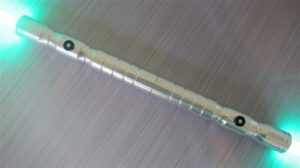 What do you get when you combine two Initiate V3 Sabers together? A Phantasm Initiate V3.
This is the new and greatly improved Phantasm Initiate. This is not just a Phantasm with short blades. The hilt as well as the blades are much shorter than the full size Phantasm, making this a true Initiate staff. It is also sound capable!
This staff is vastly superior to it's predecessor in many ways. First and foremost, it's made from aircraft T6 aluminum, which greatly contributes to its durability and great looks. The standard coupler that holds the two together is actually hidden inside the sabers and the ultrasabers combine to make one flush double sided saber. The pommels that come with the staff are threaded for easy battery access. They are also MHS compatible which means you have a vast selection of unique and premium pommels to use with your lightsaber when dual wielding.
One of the best features of the Phantasm Initiate v3 is that this lightsaber is sound capable. In order to hear the sound when the lightsabers are connected in staff form, you must select a coupler with vents. And in order to hear the sound when dual wielding the lightsabers you must select a pommel that is vented (not the solid version).
The Phantasm Initiate V3 can be used as a staff or you can separate it into two individual lightsabers. The Phantasm Initiate V3 comes with a coupler to make the staff and two pommels to make individual lightsabers.
The Phantasm Initiate comes standard with two 24 inch Ultra blades, thee can be upgraded to 32″ or 36″.