Rebel Skinny Blade vs Standard Blade
Rebel Full View - Skinny Blade
Rebel Full View - Standard Blade
CHOOSE YOUR CONFIGURATION METHOD BELOW
Availability: LEAD TIME - Allow 1 to 3 Business Days for Fabrication
Questions? Call 832-596-9003 or Click Here for How to Buy
SPECIFICATIONS
All Aircraft Grade Aluminum Construction
Length: 11.5"
Width: 1.75"
Removable Pommel (MHS Compatible)
Removable Emitter (MHS Compatible)
Polycarbonate Blade
CREE XP-E2 or LED Engin High Powered LED
Featured Videos
Ultrasabers Rebel
Description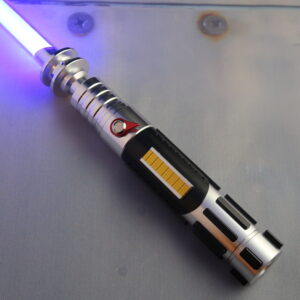 We are proud to present our latest addition to the Ultrasabers collection: The Rebel. It features a unique design with a thin neck and slanted emitter, adding to its overall appeal. Additionally, it comes in three stunning finishes that are bound to impress anyone:
The Rebel's regular silver finish with black anodized grips is a classic choice that never goes out of style.
For those looking for a touch of luxury, the Rebel LE is a silver lightsaber with gold anodized grips, giving it a more opulent feel.
Lastly, the Rebel CE is a galvanized silver lightsaber with black anodized grips, combining elegance and sleekness effortlessly.
Moreover, the Rebel lightsaber is MHS compatible, allowing for customization and modification options according to personal preference. With the inclusion of two blades, a regular 1″ outer diameter heavy duty blade and a Rebel skinny blade, users have the flexibility to choose the perfect blade for their needs.
The Rebel lightsaber from Ultrasabers is a remarkable choice for any lightsaber enthusiast. Its design, finishes, and compatibility options make it the perfect choice for anyone feeling rebellious.