Star Wars Lightsaber
If you have a true movie buff or fan of the franchise on your gift list, you may want to consider a good Star Wars lightsaber or other collectibles as gifts. For young children, these are fun toys, but for others, they are a way to own a piece of the movie itself. In some cases, these collectibles can become very valuable over time, if they're rare and limited editions and are kept in good condition.
Finding the right Star Wars lightsaber for a gift recipient is not something you should do quickly, unless you're looking for a cheap and simple toy. Even then, you want to note the age groups designed for each one since they can be dangerous if used by young children. Some Star Wars lightsaber toys are made of hard plastic and can hurt a young child; for these ones, you may want to opt for something softer and perhaps even made of foam.
For older children and those who may want a special Star Wars lightsaber, it's good to shop around. You don't want to overspend on an item that isn't actually valuable but you need to understand how expensive some of these can be when they are rare and very detailed. In some cases a Star Wars lightsaber is not meant to be used or even taken from its package, but simply put on display.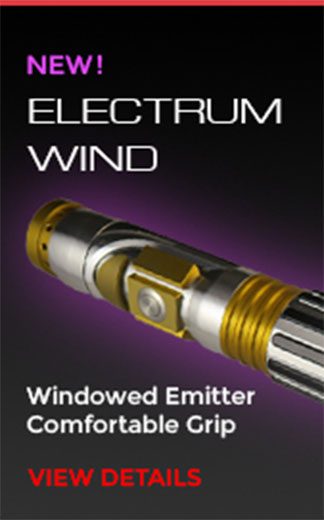 If you go online and start searching for a Star Wars lightsaber, you'll see a wealth of results. Buying from an individual seller may be fine if you're not overly concerned with the value of the item, as many are simply reselling their own items or reselling discontinued items from a store. However, for a very valuable Star Wars lightsaber, note the seller from which you purchase the item. It should be someone or a company that certifies these items and that knows the difference between simple toys and actual collectibles.
It can help you to shop for Star Wars lightsaber if you read the descriptions given by a website or seller. Do they note the details of the item, or are those details lacking? If they're selling items that are valuable, they'll note the many reasons why this particular Star Wars lightsaber is a collectible item. In some cases it may be the details of the casing or the blade itself, or it may be the lighting element or the sound chip inside.
In many cases, the best places to buy a Star Wars lightsaber are from enthusiasts. Comic store owners, toy store owners, those that specialize in movie memorabilia, and those that collect themselves may be the best suppliers. These ones are usually very passionate about these items and value their details. This will mean getting a Star Wars lightsaber that is sure to be appreciated by the aficionado and the hobbyist, and getting one that will retain its value for the recipient over time.
Shop for your Lightsaber
More Glossary Terms
A FX lightsaber is a lightsaber which has been offers a high quality replica of the lightsabers features in the Star Wars movies, comics, and animated features.
FX lightsabers have been made popular in mainstream culture thanks to the Star Wars movies, cartoons, and comics.
If you're not necessarily a Star Wars fan yourself, you may not even realize what a light saber is and why it's so special to such a fan.
Kids young and old appreciate toys as gifts, and true fans of the Star Wars movie franchise will appreciate light sabers of any size and with any number of details.
Fans of the Star Wars universe can find lightsabers for sale from a variety of places including retail stores, conventions and online.
Real lightsabers are replicas which mimic every detail of the versions of lightsabers used in the Star Wars universe. Lightsabers consist of a hilt and plasma beam.