Dark War Glaive Lightsaber
The Dark War Glaive Emitter
The Dark War Glaive Pommel
The Dark War Glaive Windows - Back Anodized Claws Consular Green
The Dark War Glaive Windows - Polished Aluminum Claws Consular Green
The Dark War Glaive Ignited
The Dark War Glaive From UltraSabers.com
The Dark War Glaive Ignited
CHOOSE YOUR CONFIGURATION METHOD BELOW
Availability: LEAD TIME - Allow 1 to 3 Business Days for Fabrication
Questions? Call 832-596-9003 or Click Here for How to Buy
SPECIFICATIONS
All Aircraft Grade Aluminum Construction
Length Without Claws: 13"
Length With Claws: 15.5"
Width: 1.5"
Removable Pommel (MHS Compatible)
Removable Emitter (MHS Compatible)
Polycarbonate Blade
CREE XP-E2 or LED Engin High Powered LED
Featured Videos
Ultra Sabers War Glaive Production Model
Ultrasabers Dark War Glaive review
Ultrasabers Dark War Glaive Review
Ultrasabers review on Scorpion, Dark War Glaive, and Monarch, 2nd Summer Raffle 1st Place Winner
Description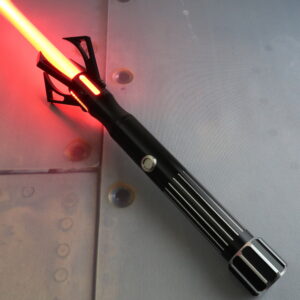 Ultrasabers is proud to present: THE DARK WARGLAIVE
The awesomeness this saber exudes speaks for itself, take a look at these pictures and the video. Not too much more needs to be said… just wow!
The WarGlaive is the first Lightsaber from UltraSabers to feature claws, and these aren't just any claws. These are some well machined, high quality claws that will get your saber noticed! And if the situation calls for it, they are easily removable.
The choke point on the neck of the saber provides a great balance point and a perfect spot for your lead hand during combat. And as if the claws weren't enough, the windows in the emitter provide additional visual aid in showing off how awesome this saber really is.
The Dark WarGlaive has also been anodized black and the vertical grooves are machined back silver to add accents to the body. The ridges and base of the pommel have also been machined back silver. Ultrasabers WarGlaive is one of a kind.
On this version, you can also pick between black claws for a more consistent look or silver claws to add even more accent to the saber.
The saber comes completely assembled and ready to go. The emitter is removable and so is the pommel. The pommel is TCSS MHS (Modular Hilt System) Compatible, meaning that it is removable and interchangeable with other MHS parts.
The LED will come installed in a MLS (Modular LED System) unit.