Azure Ghost - Blaster Emitter
The Azure Ghost from Ultrasabers.com
Ghost, Azure Ghost, Ghost LE, & Dark Ghost (Sold Separately)
CHOOSE YOUR CONFIGURATION METHOD BELOW
Availability: LEAD TIME - Allow 1 to 3 Business Days for Fabrication
Questions? Call 832-596-9003 or Click Here for How to Buy
SPECIFICATIONS
All Aircraft Grade Aluminum Construction
Length: 9"
Width: 1.55"
Depth: 3.5"
Removable Pommel (MHS Compatible)
Polycarbonate Blade
CREE XP-E2 or LED Engin High Powered LED
Featured Videos
Ultrasabers Ghost
Description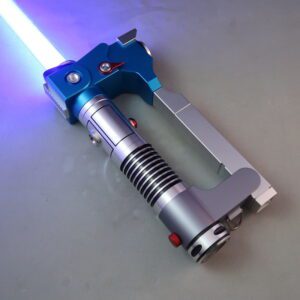 Get ready for action. We've opened hundreds of emails asking for this saber, and we've spent just as many hours slaving over designs in order to bring it to life. We're VERY excited to add this saber to the arsenal.
Ultrasabers is extremely proud to present: The Azure Ghost
Measuring in at 9″ from top to bottom, 3.5″ from front to back, and 1.5″ in diameter, The Azure Ghost is lightweight, extremely comfortable, and brings a completely unique style to the Ultrasabers lineup.
Red decorative accents across the hilt of the Azure Ghost give the saber a striking detail while deactivated, but we've added one in particular that brings a feature that's never been seen on any Ultrasaber before- Of course we're referring to the red trigger switch on the inside of the grip. Every Ghost comes standard with a second LED housed in the blaster position, controlled by the trigger switch.
The Azure Ghost features a brand-new MHS Compatible vented pommel with a striking design that is sure to be a coveted option for all of you collectors out there who are continually customizing your Ultrasabers with new MHS compatible parts as they're released.
While covertec wheels are available and can be installed on the Ghost, each hilt will come standard with a D-Ring installed.
Finally, the Ghost is available in four finishes, each with their Blaster Mount anodized to a bold color. Three of our classic anodized colors return on the Azure Ghost, the Ghost LE, and the Dark Ghost, but for the flagship model we've introduced an all new pigment to the lineup:
The Ghost itself will feature a Blaster Mount anodized in an all-new green.
The Blaster mount on the Azure Ghost will come in our bold blue.
The Ghost LE will feature a regal gold Blaster Mount
The Dark Ghost will come in a classic black.
Azure Ghost is available in all configurations from Stunt to UltraPixel to Diamond Controller so you can customize yours exactly the way you want it.