Dark Sentinel v5 Lightsaber
The Dark Sentinel v5 Full View
Availability: LEAD TIME - Allow 1 to 3 Business Days for Fabrication
Questions? Call 832-596-9003 or Click Here for How to Buy
SPECIFICATIONS
All aircraft aluminum construction
1.45" wide
13.25" long
Removable pommel (MHS compatible)
Polycarbonate UltraBlade
Low profile guarded push button switch
Seoul P4 or LED Engin High Powered LED
Powered by 4 AAA batteries
Featured Videos
Ultrasabers v5 Lineup Introduction
Description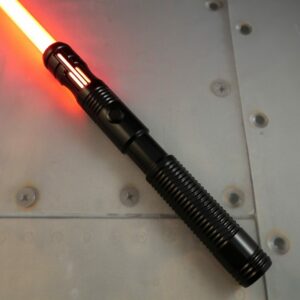 The Ultrasabers Dark Sentinel v5 is the imposing twin of the Sentinel v5. The black anodized body is sleek and sends a clear message that, if someone got on the wrong side of the wielder, they'd be in big trouble.
The latest version of this single blade lightsaber comes with a windowed emitter, which looks truly stunning when the blade is illuminated within the black hilt — try a yellow lightsaber blade for a complete Sentinel look. All v5 Basic Sabers come with windowed emitters and AV Switches for our most immersive lighting effects yet.
The hilt of the Dark Sentinel is anodized black and has multiple choke points for a comfortable one- or two-handed grip. It's slightly longer than the v4 at 13.25″, but this lightsaber is still a great option for younglings to masters alike.
The Dark Sentinel v5 is an ideal model to choose if you want to build your own lightsaber. The pommel is MHS compatible, so you can easily switch out styles, and the lightsaber can accommodate the Ultrasabers Obsidian Soundboards, Emerald Driver and Diamond Controller installs. Forge your perfect weapon with the Dark Sentinel v5.