XenoPixel Trooper - Ignited
XenoPixel Trooper - Color Changing Blade
XenoPixel Trooper - Emitter
XenoPixel Trooper - Pommel
XenoPixel Trooper- Full Hilt
XenoPixel Trooper- Full Hilt Side
XenoPixel Trooper - Top View
XenoPixel Trooper - Bottom View
Availability: LEAD TIME - Allow 1 to 3 Business Days for Fabrication
Questions? Call 832-596-9003 or Click Here for How to Buy
SPECIFICATIONS
The XenoPixel DP Trooper measures:
11.3" in Length
1.5" in Diameter
Description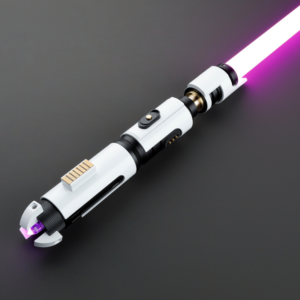 Ultrasabers is thrilled to announce the addition of the XenoPixel DP Trooper to the arsenal! The XenoPixel DP Trooper is a Pre-constructed XenoPixel saber and is NOT manufactured by Ultrasabers- but you can bet that we're very excited for its arrival.
Introducing a saber of unparalleled uniqueness, featuring a sleek white and black body with a slender copper neck and intricate details. This saber is designed to withstand the rigors of battle, even if it misses a few shots here or there. The pommel is adorned with a crystal that emits a glow matching the color of the blade, adding a touch of elegance to its overall design. Additionally, the emitter is angled in a manner that shields it from potential foes, ensuring maximum protection during combat. This saber is a must-have for any discerning warrior seeking a combination of style and functionality.
The XenoPixel DP Trooper comes standard with a removable 36" polycarbonate XenoPixel blade that can be adjusted on the fly to any color you choose, 34 built in sound fonts, tip drag, flash on clash and so much more, and will ship with the following:
– A 36" polycarbonate XenoPixel blade, 1″ diameter
– Charging Cable
– Toolkit
– Screwdriver
– Instruction Manual
Again, the XenoPixel DP Trooper is NOT manufactured by Ultrasabers, but it is fully covered under our warranty, eligible for all of our promotions, and, of course, gets the full Ultrasabers experience for customer service. This is a drop shipped (DP) saber from our partnering manufacturer. All sales are final; no cancellations or returns. Allow 1 to 2 WEEKS for Delivery.